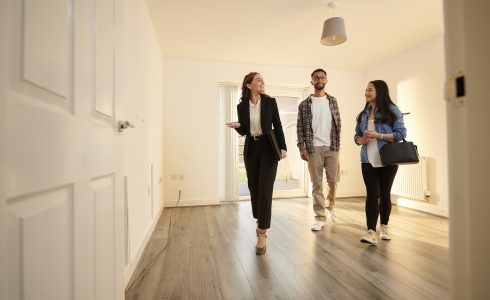 Buying a house can be a stressful process, especially for first-time homebuyers. But it doesn't have to be an overwhelming experience. With the right research, team, and mindset, you can make the process of house hunting easier and more enjoyable. Check out these tips and tricks to help you navigate the world of real estate and find the perfect home for you.
Know what you want
Before you start your home search, it's important to have a plan ready. Real estate agents are amazing. They can do all sorts of magical things like make boring houses feel more inviting and find hidden gems. But they need some direction when looking for just the right place. Give your real estate agent some help by giving them specific details of what kind of house would suit the needs and wants of your family.
Need a little help figuring out what you need in your new home? Check out some of these blog posts on how to choose the right home:
Be flexible with "perfect"
Your dream home is out there. It just might not be exactly what you had originally imagined. We often create a detailed list of must-haves but need to keep in mind that unless you're building your home from scratch, you may not find it. When searching for your perfect house, try to keep an open mind. Have a checklist of must-haves and prioritize each item so that if something doesn't match up perfectly, it's no big deal. Know which items are non-negotiable and don't compromise on them but remember: sometimes the best things come in unexpected packages.
Get preapproved
Being pre-approved for a loan provides the reassurance you're making an informed purchase. It provides an estimate of what loan amount and interest rate you're likely eligible for, giving insight into how much house you can afford. Plus, buyers with pre-approval letters are seen as more serious contenders in today's competitive market. Here are 3 crucial benefits you'll enjoy by going through the preapproval process.
Get the right team
Buying a house involves many steps, from finding the perfect property to closing the sale. Having the right team by your side can make all the difference in the world. Here are a few critical people who should be on your team:
Experienced Agent: Your real estate agent will help you find the best properties based on your search criteria and budget.
Good Loan Officer: A loan officer will help you secure a mortgage that suits your financial situation.
Home Inspector: An experienced home inspector will ensure the house is in excellent condition and that there are no significant issues.
Reliable Closing Attorney: A closing attorney will ensure that the legal documents are in order, so your purchase goes smoothly.
Stay organized
Buying a new home can be a challenge with so many details to keep track of: from home tours, mortgage leads, inspections, and budgeting. But having everything in one place could make it easier. Create your own personalized home buyer's checklist for easy tracking throughout the process. That way you won't need to worry about missing any important details; plus you'll save yourself some extra stress in the long run too. Here are some additional tips for organizing your new home search.
Be patient
While you have more control over other aspects of the home search, you don't have as much over the timeline. Being dependent on other people's schedules can be stressful but this is where being patient really pays off. The homebuying process has several steps and people involved; it can take anywhere from 6 weeks or more to navigate the buying process. Remember, the buying process takes time, so don't rush it.
Take care of yourself
Buying a house is one of the most significant investments you'll ever make. It's understandable that it can create stress and anxiety. It's essential to take care of yourself during the process, which includes staying healthy, getting enough sleep, and exercising. Try not to get overwhelmed with details and take breaks when needed to keep from becoming too stressed or anxious.
Buying a house can be a daunting task, but it doesn't have to be. By following the tips above, you can reduce your stress and anxiety levels and make the process smoother. With these steps in mind, we wish you a successful house hunting process to find the perfect home for you.
Discovery Homes builds quality new homes in vibrant communities throughout the Bay Area. Visit us online at DiscoveryHomes.com to learn more about our communities, view available new homes, and more. We can't wait to welcome you home.