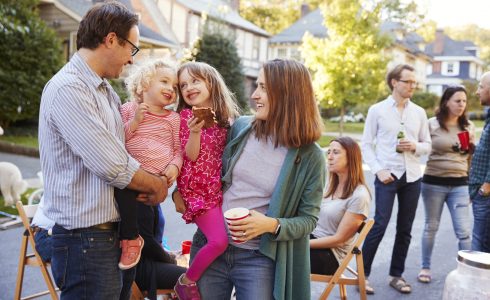 Moving into a new neighborhood can be extremely exciting, but it can also be intimidating. Meeting the neighbors is an important step in feeling at home and getting to know your community. However, sometimes it can be tough to break the ice and initiate a conversation with someone you barely know. Here are seven tips for introducing yourself (and your family) to the people living around you after you move into a new home.
Say hello
Don't let unpacking boxes or pesky phone calls with your internet provider take away from taking time to smile at your neighbors and introduce yourself! A friendly introduction will not only make people remember you but also creates an inviting atmosphere that encourages connection. It seems so simple but it's also effective.
Spend time outside
If you're looking to meet the neighbors, chances are your couch isn't the best place to start. Instead, try taking a stroll around your front yard or check out common areas of your neighborhood. It can do wonders for expanding both physical activity and social circles. When approaching someone, introduce yourself with a smile and ask them some questions that encourage conversations to flow more easily.
Strike up conversations
Starting a conversation with someone you've never met before can be awkward, but it doesn't have to be. When walking your dog or checking your mailbox, take a moment to wave and say hello to your neighbors. Ask about their pets or compliment their landscaping. If you see someone doing yard work or washing their car, stop by and offer to lend a hand. These small gestures can go a long way in breaking down barriers and establishing friendships.
Use your kids to break the ice
Your kids can be your best wingman when meeting your neighbors. Load up a stroller or grab those scooters and walk as a family around the block. When you see other kids playing, introduce yourself. Soon enough, playdates and school events will come along, further introducing you into your neighborhood fabric. For specific age-appropriate activities, why not check out what the local library has going on? It could be just what all of your little ones need for creative fun while giving parents time to make some grownup connections too!
Participate in local activities
Getting involved in local community activities or organizations is a fantastic way to meet like-minded people and contribute to your neighborhood. Attend town hall meetings, join a community garden, volunteer at a local soup kitchen or attend a neighborhood potluck. Not only can you promote a sense of togetherness, but you can also learn more about the issues and opportunities that are important to your community.
Host an outdoor gathering
One of the best ways to get to know your neighbors is to invite them over for a casual outdoor gathering. Whether it's a BBQ, potluck, or just a simple happy hour, hosting an event on your front lawn or in your backyard is a great opportunity to meet new people and catch up with those you already know. Set up a few lawn chairs, string up some lights, and bring out some tasty snacks to encourage neighbors to come over and chat.
Offer help
If you see a neighbor struggling with carrying groceries or changing a light bulb, offering to help can be a kind and thoughtful gesture. In addition, lending tools, sharing extra produce, or offering to pick up mail during a vacation can be ways to establish goodwill and trust. Just be sure to respect boundaries and not overstep by being too nosy or intrusive.
Cultivating relationships with your neighbors can be an excellent way to build a sense of community and create lasting friendships. While it may take some effort and courage to step out of your comfort zone, the benefits of actively engaging with those around you can be enormous. So next time you're heading out for a walk or hosting a small gathering, remember to be friendly, open-minded, and willing to connect. Who knows, you may just meet some fantastic people who can make a wonderful difference in your life.
Find your new home with Discovery Homes
Discovery Homes builds vibrant new home communities throughout the Bay Area. Visit us online at DiscoveryHomes.com to learn more about our communities, available quick move-in homes, and more.