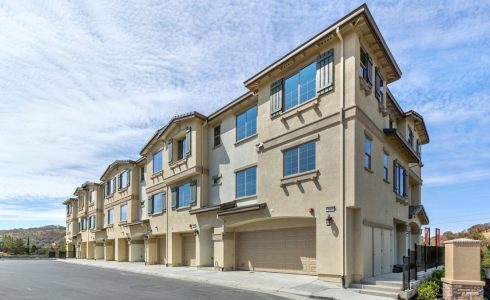 What Type of Home Should I Buy?
When you think of buying a new home, what type of home do you see? Most people see the traditional single-family home, but there are different home types that might be a better fit. With so many choices available, how do you know what type of home you should buy? Here's a quick guide that explains the three main home types you'll come across during your home search.
Condominiums
A condominium, or known simply as a "condo," is a privately owned unit located in a housing or residential complex. Many people believe condos are simply units in a high-rise building, but they can also be townhomes and sometimes even detached homes.
In general, condo owners own the interior of their units and share access to common areas and amenities like pools, gyms, recreation rooms, rooftop decks, and more. Condo owners typically pay dues to a homeowner's association that manages the upkeep and maintenance of the common areas.
Condos are often attractive to first-time home buyers and people looking to downsize because of their affordability and a relatively low-maintenance lifestyle.
Townhomes
Townhomes are a happy medium between condos and single-family homes. Townhomes typically have at least two floors. Like condos, they have one or more shared walls with an adjacent unit but are more spacious and ownership includes the structure and land, similar to single-family homes.
Some townhome communities may offer the same kinds of amenities as condos and may require an HOA membership, though dues are typically less since townhome owners manage most of their own upkeep.
Similar to condos, townhomes are popular to first-time homebuyers and downsizers because they're often more affordable and require less maintenance than single-family homes.
Single-family homes
The quintessential single-family home is usually what people imagine when they think of a house. Single-family homes are freestanding structures designed to have one owner and used as a single-dwelling unit without shared walls. They offer the most space and privacy than other home types but also come with the most responsibility. As a homeowner, you're responsible for everything but also have the freedom to build and modify your home as you please. It's important to note that some single-family homes can be in neighborhoods governed by an HOA and have shared amenities.
Evaluate your options
Your home should support how you live. While detached single-family homes are common, they may not be the best option for every homebuyer. Like Goldilocks, you need to find the style of house that's just right for you. That's why it's important to consider your priorities, lifestyle, and budget to figure out which home type is best before you begin shopping for homes.
We have several blog posts on how to choose the right home so you can make a confident decision:
Starter vs Forever Home: How to Choose – An important question to ask yourself is do you want a starter home or a forever home? Here's how to choose which option is best for your life right now.
Finding the Right Sized Home for Your Family – Looking for the "right size" home? Here are some things to keep in mind as you nail down just how much space your family will need.
The Parents' Guide to Home Buying – When it comes to finding your next family home, there are a few more things to consider.
What Makes a Great Neighborhood? – Great neighborhoods are more than just a location. It's important to keep in mind that you're buying into a neighborhood when you buy a new home.
Discovery Homes builds quality new homes in vibrant communities throughout the Bay Area. Visit us online at DiscoveryHomes.com to learn more about our communities, view available new homes, and more. We can't wait to welcome you home.