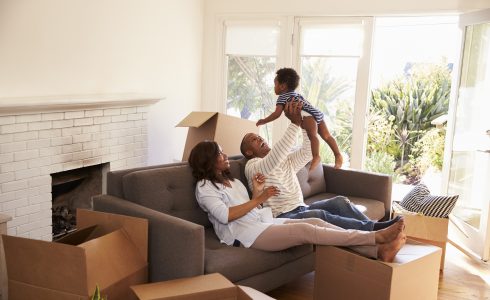 What comes first? Mortgage or baby? Well…there's no one right answer. Buying a home first and being settled before the baby arrives makes sense for some people. For others, finding a home after a baby is born is better. Whether you're expecting now or simply planning for a potential new arrival, here are some things you should consider.
Common expenses for home and baby
You've heard it before: babies and homeownership are expensive! Your budget will change once you buy a home and baby arrives, so understanding how those changes will affect your finances is important. Before you begin looking for homes, it's important to review your budget and make an honest assessment of your finances. Here are some common expenses you should be planning for.
Housing-related expenses. In addition to the mortgage payment, you'll need to consider home insurance premiums, property tax, utilities, repairs, and maintenance (this cost will be much lower if you buy a new construction home). Consider setting aside at least 1% of your home's purchase price to cover repairs and maintenance.
Baby-related expenses. There's no shortage of expenses when it comes to babies. Aside from outfitting the nursery and the baby itself, you also need to take care of their basic needs (diapers, formula, and food, medical care, etc.) and future expenses for education, activities, and more. And don't forget about childcare!
How to save for both?
Saving for both a new home and a new baby will take some time but it's doable. Review your current expenses and find areas you can realistically reduce spending, funneling those savings into a separate account. Having a savings goal will serve as your motivation to remain on budget and make the necessary adjustments.
Decide how much space you need
Babies may be small but they take up a surprising amount of space! Between the furniture, toys, and more, your home can quickly become overrun with baby stuff. When you're looking for a new home, it's
important to think ahead and anticipate future needs. You want to make sure the home you choose has enough room for your family with some wriggle room for growth in the future. Here are some questions
to consider to make sure you pick the right home for your family.
Knowing how much home you'll need will help you find the right size home for your budget.

Should you buy now or later?

Ultimately this decision will depend on your circumstances. Buying a home before the baby arrives is a bit easier since you don't have to worry about bringing the baby along to tour homes or finding a babysitter. You'll also have time to get settled and set everything up just right. An underrated benefit is being able to get the baby settled in their new environment. Babies thrive on routine and sometimes moving can disturb established sleep patterns.
Waiting until the baby arrives to move will give you a better idea of what you'll need in your new home and neighborhood. You'll also have a better grasp of your new financial obligations and what you can now afford.
Buying a home and having kids are major financial decisions but understanding what to expect will help make that decision easier. Now the next decision to make is whether you should move before the baby arrives or after! But we won't blame you if you'd rather spend time planning the nursery instead. If you're looking for a new home for your growing family, visit us online at DiscoveryHomes.com to learn more about our new home communities throughout the Bay Area.