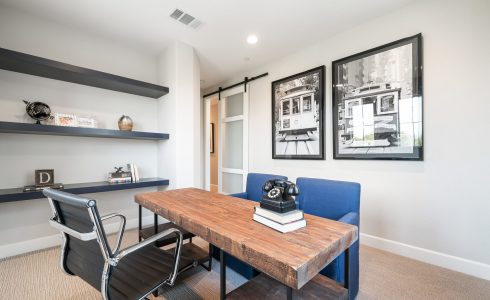 Working from home has many benefits, chief among them not having to commute to the office. Even though you're no longer driving to the office, there's plenty of ways you can reduce your environmental impact and save energy while working from home.
Ready to create an environmentally sustainable home office? Here are some simple ways to get started.
Take advantage of natural light
When choosing a space for your home office, look for one that has plenty of natural light. This will allow you to rely heavily on daylight throughout the day and reduce your overall energy consumption. You can coax more light by painting your office a light color or strategically placing mirrors to reflect the light. If you work during the evening hours or in an area that does not get a lot of natural light, opt for energy-efficient lighting like CFL or LED bulbs.
Reduce energy consumption
When it comes to electronics, opt for energy-efficient options whenever possible. Turn off any equipment that doesn't need to stay powered, including lighting, computers, and printers. Smart power strips can help reduce your energy consumption by turning off plugged-in when they're not in use.
Another way to reduce energy consumption is skipping the screensaver and setting your computer to go into sleep mode when you're not actively using it.
Choose sustainable materials
Outfitting a new home office is always exciting but before you head to the big box store, spend time shopping for more sustainable options. Buy secondhand or look for new furniture made from sustainable materials like bamboo or rattan.
Shift to a paperless office
Our digital landscape has made printing optional. Before printing, always ask yourself if you really need to print. If your work requires printing documents, implement sustainable printing habits. Print on both
sides of the page with 100% recycled paper. Look for an energy-efficient printer and use eco-friendly printer inks and toner.
Add plants to your office
Introducing plants into your office is the best way to go green. Plants are natural air filters and also help reduce stress and boost moods. Even fake plants can improve your mood. Choose plants that live best in the light conditions of your workspace.
These green home office tips will get you started towards creating a more environmentally-friendly home office that won't just benefit the Earth, but also your health and wallet.
If you need space for a home office, we can help. Many of our homes include flex space that can be turned into a home office you'll love working in. Visit us online at DiscoveryHomes.com to learn more about our new home communities in the San Francisco Bay Area. We look forward to helping you find the right home for your family.