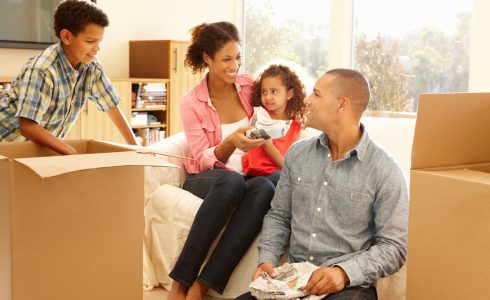 Moving into a new home is exciting but the actual moving process is a major chore. From packing, finding movers, and figuring out the logistics, there's a lot to manage. Not to mention it can also cost a small fortune. Every penny counts so here are six ways you can save money on your next move, whether you're moving across town or the country.
Research and compare costs
Hiring professional movers can cost anywhere from a few hundred to several thousand dollars. It's worth taking the time to get estimates from several different companies and compare packages. Try to get your move quoted in one of three ways:
Binding estimate: binding estimates are when movers guarantee a fixed cost based on the mileage or approximate weight of your belongings. As long as you don't add extra items, the final price should match your quote. While you don't have to worry about the pricing being raised at the last minute, you won't be able to pay less if your final weight is less than your estimate.
Nonbinding estimate: nonbinding estimates are based on the mileage or weight of your belongings but the final price is not locked in and can change depending on the final weight of the move. You can end up with a higher-than-expected final bill.
Binding Not-to-Exceed: a binding not-to-exceed estimate is similar to the binding estimate. While you won't be charged for exceeding your approximate weight, you can pay less if your final weight was less than the quoted weight.
Resist the temptation to base your decision solely on the quoted price. Research and read online reviews for prospective movers. Also read all of the paperwork – including the fine print, to avoid unexpected expenses or scams. Get everything in writing and only sign an estimate when you feel confident in your choice.
Move during the week
Choosing the right time to move can make or break your budget.
May to August is peak moving season and on the weekends so demand tends to be higher. You may not have flexibility in the time of year you move, but you can still shave a few dollars off your moving bill by opting for mid-week (usually Monday to Thursday) and mid-month moving date.
Purge before packing
Decluttering your home before moving is one of the most cost-effective ways to save money. Simply put, the less stuff you have, the easier and cheaper your move will be. Use your upcoming move as a catalyst to go through your belongings and tossing unused items, unworn clothing, outdated electronics, or extra furniture. You can donate, give away, or sell items that are still in good, working condition.
Pack before the movers arrive
A lot of people underestimate how long it can take to pack. If you're not ready when the movers arrive, any delay can stretch out your move and increase the final cost of your move. Instead, take time to pack your belongings, with the goal of being done by the night before (aside from your day of essentials).
If you'd rather have the professionals pack for you, make sure you ask how much they charge per hour and how long the process typically takes.
Find free boxes
A surprising fact about moving that's often overlooked is the cost of moving boxes. They're not cheap! Thankfully, you can save money by finding as many free boxes as possible before moving. Save shipping boxes in the months before you move. Ask family, friends, or local retailers for extra boxes. You may also be able to find free moving supplies on Craigslist, Facebook Marketplace, or another online community forum. Here are a few more unexpected places to get moving boxes.
Enlist friends for a DIY move
If you're on a tight budget, DIYing your move is a common solution. Enlist the help of family and friends and rent a moving truck. You can use all of the above tips to prepare for and organize your move. Be sure to thank your movers with a meal. Here are a few other ways you can show your appreciation.
Moving is the final step towards your dream home and brand-new memories. Being prepared and doing your research will make this transition easier on your budget.
Discovery Homes remains dedicated to building new homes to the highest standards of craftsmanship. You're invited to visit us at DiscoveryHomes.com to explore our great community locations all across the Bay Area.