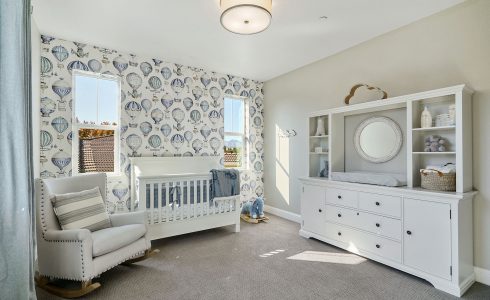 Designing a nursery for your new baby is a fun milestone but can also feel overwhelming. You want it to be a cute space but also functional and organized. With Pinterest and Instagram overflowing with picture-perfect baby room inspiration, it can be hard to figure out where to start, especially if this is your first child! Here's everything you need to know to create a nursery both you and your baby will love.
Get the foundational pieces
With proper planning, you can design a nursery that can grow with your baby. The good news is you only need three pieces of furniture to fill your nursery: a crib, dresser, and a chair. Convertible cribs are smart investments because they can transform from a crib to a toddler bed and eventually into a double bed as your child grows, saving you from having to continuously buy new furniture.
The next piece you'll want to buy is a comfortable rocker or glider chair. This will make late-night feedings more comfortable, especially if you accidentally fall asleep with the baby! Consider getting an ottoman or footrest to improve blood circulation in your legs since you'll be doing a lot of sitting.
You may have noticed we skipped the changing table. Here's why: your baby won't always be in diapers so you won't always need a dedicated changing table. Instead, save some space and money by securing a changing topper on top of the dresser. You can use the dresser to store baby items like extra diapers and wipes, burp cloths, blankets, swaddles, and more. Once your baby is potty-trained, you can remove the changing topper and keep the dresser.
Be strategic with lighting
Most rooms have a single overhead light, but the last thing you'll want to do is turn on that bright light in the middle of the night. If possible, install a dimmer so you can control the brightness so you don't have to fumble to feed or change diapers in the dark. If a dimmer isn't possible, set up task lighting in key areas near the changing table and next to the chair.
Create a nursing station
You'll be spending a lot of time in your glider for feedings, cuddling, and even naps. Create a nursing station with a small side table and task lamp next to your chair. Keep the side table stocked with items you may need like burp cloths, nursing pillow, breast pads and cream, and snacks and drinks for the parents (especially if you're breastfeeding) so you don't have to get up to get something.
Be smart with the layout
Keep efficiency, comfort, and safety at the forefront when deciding where to place your furniture. Start by placing your crib and then place the remaining items around it. Place the crib away from windows and avoid outside walls. Then set up your nursing station close to the crib so you don't have to walk across the room to place your baby back into bed after feeding or changing them. Place the changing station/dresser and play area on the opposite side of the room.
It's okay to skip the theme
If the idea of turning your baby's room into a perfectly coordinated space makes you anxious, feel free to skip it altogether! You can keep it simple by making the nursery an extension of your current interior design style.
Once you have the essential pieces for your nursery, you can have fun dressing it up with the perfect décor pieces. We hope these tips help you create a room you'll be excited to bring your new baby home to. If you need more space for your growing family, visit us online at DiscoveryHomes.com to learn more about our new home communities throughout the Bay Area.