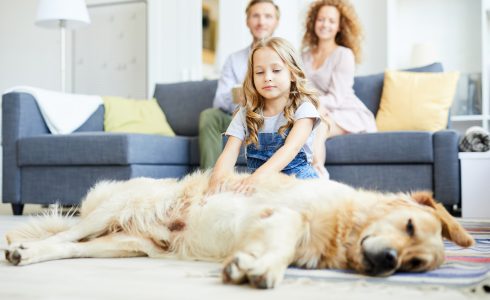 After all the hard work of house hunting, you've finally found a home that's great for the entire family. Even the four-legged members. Preparing to move into a new home can be overwhelming; from coordinating the movers to packing everything up to getting the younger members of your family ready for a big transition. But don't forget about your pets!
Just like kids, our pets can become very attached to their homes so moving can be stressful. Taking some time to introduce your pet to their new home will help make this transition easier for them. Here's how you can successfully introduce your pets to their new Discovery home.
Give your pet a tour
You've toured a lot of homes and maybe your kids have even picked out their bedrooms, but what about your pet? When you're able (preferably before moving day), give your pet a grand tour of their new home, allowing them to explore and get used to the new scents in the area.
If you have a dog, walk them through each room of the house, allowing them time to sniff and explore. Show them where they can expect to sleep and eat by bringing their favorite blanket or dog bed and food dishes and placing them in those areas. Get them to sniff the food dishes or lay down on their bed and give them a treat. This will help them begin to associate their items with the new home. You'll always want to walk around the outside of the home so they can get used to the new smells and leave a mark.
The process for cats is a little different. You'll want to create a safe room and slowly introduce them to one or two rooms at time. Place everything they'll need, litter box, food dishes, bed, scratching post and toys in this room. Wait until you're mostly unpacked before allowing them to explore the rest of the house on their own time.
Bring their favorites
A new home usually means new stuff, but resist the temptation to upgrade your pet's stuff. Keeping familiar items, like their bed, toys, crate, and food and water dishes, and placing them in similar places in your new home will help your pet feel more in control and adjust more quickly.
Maintain their routine
Keep the same schedule for feeding, walks, playtime, and bedtime. They may be in a new home but that doesn't mean their schedule should be different. This goes for the rules as well! If they weren't allowed on the furniture in the old home, don't let them hop onto the bed at the new home because you feel bad for all the changes.
Be patient
It may take some time before your pet feels completely at home and that's okay! Some pets may be completely comfortable within a few days and others may take longer. Allow them to take as long as they need to sniff around their new home or come out when they're ready. Be aware of any behavior changes (if your pet exhibits moderate to severe anxious behaviors, speak to your veterinarian for additional support) and give them some extra love.
Moving into your dream home is an exciting and fun time. Following these tips will help make your pet feel more comfortable and secure in their new home as well. It can take some time but these tips will get you well on the way to a smooth transition.
Ready to find your new home? Discover the best in life in one of our Northern California communities. Visit us online at DiscoveryHomes.com to learn more about our new home communities and schedule a visit today!