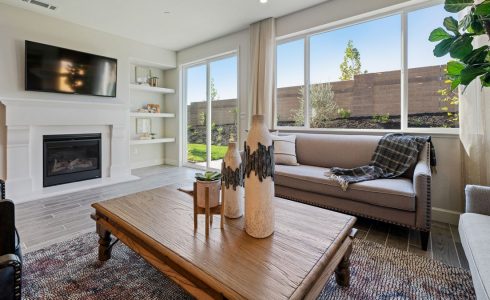 If you want to sell your home, chances are you will need to stage it. Home staging helps your home look its best for prospective buyers and can be the difference when it comes to selling your home.
Home staging is the process of strategically decorating your home to highlight the best features and help buyers see themselves living there. Wondering why you should bother staging your home? Simply put, staging helps make your home look its best while selling. It's a great way to make your home stand out against other listings. Another benefit of staging homes is that they typically sell for more and faster than unstaged homes.
Staging your home helps buyers imagine themselves in the space, which is a key step to getting them to consider buying your home. Here's how you can effectively stage your home to sell.
Stage where it counts
If the idea of staging your entire home feels overwhelming (and expensive), don't worry. When it comes to staging your home, not every room is created equally. Focus on staging the most important rooms in the home and spending less time on the others. The National Association of Realtors has found the living room, master bedroom, and kitchen are the most influential to buyers' decisions so it's smart to start there.
Declutter and depersonalize the space
The main purpose of staging your home is to help buyers visualize living in your home. The best way to accomplish this is by creating a neutral space. It's easier for buyers to picture themselves in the living room if they're not looking at photos of your family.
Start by purging and cleaning your home, removing personal items and keepsakes from all surfaces you won't need between now and moving day. Consider getting a temporary storage unit to store your stuff while your home is on the market. This will help your rooms and closets look and feel as large as possible.
Erase signs of pets
You love your pets but not everyone is a fan. Potential buyers may be allergic or turned off by obvious pet odors. Thoroughly clean the areas in your home where your pets spend the most time and put away toys, food dishes, and other pet products from the common areas during showings.
Rearrange furniture
Sometimes rearranging your furniture can make a big difference in a room. If you have your furniture pushed against the wall, consider pulling them into the middle of the space. Get rid of extra or oversized furniture pieces and place your remaining furniture so there's an obvious pathway through the area. This will make the room look and feel spacious.
Let the light in
Lighting is an essential part of home staging. Buyers prefer to see bright rooms so aim for a light and bright look in your home. Swap in higher-wattage lightbulbs, pull back the curtains or open the blinds. and clean your windows to maximize the amount of light in your home.
Show value of special spaces
Highlight any special features in your home that make it unique. Make the most of your floorplan by creating a reading nook in an unused corner or show off the potential of an extra storage area.
Don't leave rooms empty
While you don't have to stage your additional rooms to the same degree as the main three rooms we listed earlier, you shouldn't leave a room empty. Show how these extra spaces are usable by giving them a specific purpose. Think about potential rooms buyers are looking for. Home offices are an obvious choice as more people are working from home, but also consider creating a guest room, or another kids' room as well.
Stage your outdoor space
Don't forget about your outdoor areas. Buyers are just as interested in a home's outdoor space as they are the indoor areas. Make sure your outdoor area is in the best shape and set up a small vignette of a table and chairs to show how buyers can expect to enjoy this area.
Now that you're ready to stage your home to sell, it's time to discover the best in life with Discovery Homes. Each of our current and upcoming new home communities throughout Northern California and beyond has its own distinctive character and is set in some of the most sought-after locations. Visit us online at DiscoveryHomes.com to find your new home today.