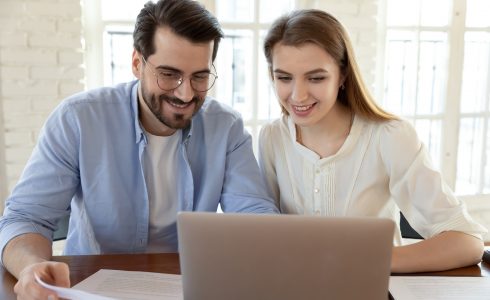 Buying a new home with your partner is an exciting milestone. Not only are you building a future together, but you're also experiencing the wild ride that homeownership offers. But before you start looking at home listings and interviewing real estate agents, it's important that you and your partner have an open conversation about your expectations.
Are you thinking about buying a home with your significant other? Here are the crucial questions you need to discuss before you begin looking for homes.
How is your financial history?
It's time to open the books and get real about your finances. Buying a home is a major financial decision and this is one area where you don't want any surprises. You and your partner need to have an open, honest conversation about the state of your finances: your income, expenses, and especially your debt and credit score. These factors can make or break your chances of securing a mortgage.
You'll also want to figure out how much home you can afford, how much each person can contribute to the down payment and mortgage payments, how you'll split housing costs like maintenance and repairs, and how much you need in your emergency fund.
Who will apply for the mortgage?
Once you've discussed your finances, it's time to decide who will apply for the mortgage. Some lenders may allow unmarried couples to apply together, which boosts your application since both of your incomes will be considered, however, if you're unable to apply together, it will be best for the person with the strongest credit score and history to apply on their own.
Where do you want to live and for how long?
Have a conversation to discuss where you both would like to live. Is it in your current neighborhood or somewhere else? Does one partner dream of city-living while the other wants to put down roots in the suburbs? Unlike renters, homeowners don't have the ability to pick up and move in a year so your commitment to a location is important. Its recommended to stay in your home for at least 3 to 5 years before selling so you should be prepared to stay put for the foreseeable future.
What do you want in your home?
You need to establish what you both need and want in your home. Identify your top priorities for your home: number of bedrooms, features and amenities, size, age of the property, and price. Even if you're on the same page, you won't agree on every single detail so know what you're both willing to compromise on (and what you're not) to find the right home.
What's your fixer-upper tolerance?
You may dream of turning a fixer-upper into the perfect home but are you prepared for what that entails? Have you looked into the cost of that much renovation? Are you able to do the work yourself? Have you considered the amount of time the renovations will take and where you will live while they are being done? Most importantly, does your partner want the same? Discuss what you each envision for your new home and how much you're willing to renovate.
Who will get the home if we break up?
Talking about the end of a relationship is an awkward but necessary step if you're considering buying a home together. Your relationship may be strong now but life happens and things take us by surprise.
The legalities can get a bit complicated if you're unmarried (married couples still pay attention!) so it's important to go over your options with a legal advisor. You may want to consider creating a house ownership agreement that outlines how you title the home and ownership percentages, how costs are divided, how you'll handle disputes, and how you'll proceed in the event of a breakup or death, among other things. Hopefully, you won't have to experience this part but you'll appreciate having a plan in place.
Whether or not you ultimately decide to buy a home together now, having this discussion will get you and your partner on the same page about homeownership and finances so that once you get the keys to your new home, you can settle in and enjoy the next chapter together.
When you're ready to make that jump to homeownership, get in contact with us. Discovery Homes builds quality new homes in great locations in the Bay Area. Visit us online at DiscoveryHomes.com to see our current communities, available homes, and schedule a tour.