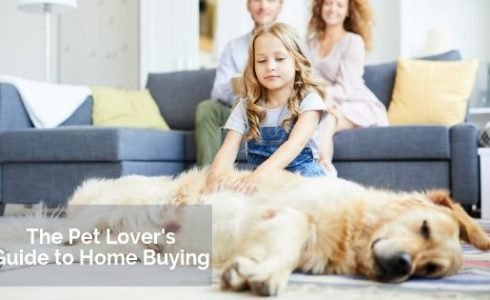 Did you know that 68% of American households have a pet? When it's time to look for a new home, don't forget to consider the furry members of the family! Here's how you can search smarter to find the perfect new home for your entire family, including the four-legged members.
Learn the local pet laws
The first things you should check is local restrictions or ordinances. Some cities and counties may limit the number and type of allowable pets. There could be locations that aren't welcoming to specific breeds of animals or may have additional requirements for those pet owners. This advice is applicable for HOAs or condo developments as well!
Review a home's layout for pet-friendliness
When touring new homes, check to see if the home is welcoming to your pets. Some considerations to undertake include the size and layout of the home, flooring, number of stories, and backyard space.
Size and layout: You don't want to be tripping over your pets! Check that there is enough room for your pet (especially if it's a large breed like a Great Dane) and their accessories like a dog bed or kennel, or even a cat tree.
Flooring: The best flooring is one that can stand up to your pets. You want a floor that is easy for your pets to walk on and is easy to clean. Some pet-friendly flooring options include stone or tile, poured concrete, luxury vinyl, bamboo or laminate (there are a few dog-friendly options). If you must have hardwood or carpet, consider getting engineered hardwood or a stain-and-odor-resistant carpet.
Stairs: Do you dream of having a multilevel home? If so, consider whether the stairs are safe enough for your pets to use, especially as they age or if they have disabilities.
Backyard: Yard space is always a big concern for dog-owners. Having space where their dogs can safely roam and play is important. Having a fenced-in yard is important; it keeps your dog in and other strange animals out.
Pet-friendly neighborhood and amenities
When you buy a home, you're also buying into a neighborhood. Look for a neighborhood that's good for walks, whether it's close to a park or open green space, trails, or a dog park. It's important that the neighborhood is one you'll also be happy walking through. Be careful when choosing a house that's close to a busy road.
Look for homes that are within an easy distance to veterinary clinics or pet grooming services to make it easy to maintain their health and coats. It's helpful if the home is close to pet shops or supply stores as well.
Discover great pet-friendly new construction homes
It takes time to find the right home but with these tips, you can find the perfect home where you and your pets can live together in harmony. When you're ready to dive into homeownership, check out our available communities in Northern California and Nevada to find your dream home today!