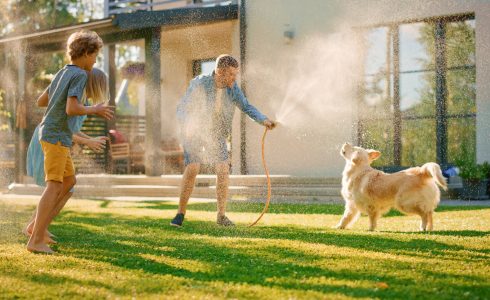 Dogs may spend most of their time inside, the backyard is their domain. That's why it's important to create a dog-friendly backyard where they can safely play, bask in the sun, and explore. Keep these factors in mind when creating a backyard both humans and pets will enjoy.
Keep it fenced
Fences are the best way to keep your dog in and other animals out. Regularly inspect your fence for areas where your dog could potentially escape through – or other animals can come in. Check along the bottom for areas large enough for your dog to tunnel under, make sure it's high enough that they can't jump over, and there aren't any gaps they can squeeze through. If your dog is a determined digger, consider burying chicken wire under the fence or placing large rocks along the bottom.
Provide some shade
Make sure there's a cool, shady area where your dog can take a break. This will keep them from overheating while playing outside, which is especially important in warmer climes. A shady tree is an obvious option, but if you don't have one large enough, a small tent or doghouse with lots of ventilation are great options.
Increase the comfort with a water dish for hydration and an elevated dog bed. This will allow the underside of your dog a chance to cool. Having a dedicated outdoor bed means your dog's regular bed can remain inside and clean.
Create some entertainment
Keep your dog busy by providing lots of options for fun and entertainment. In addition to putting out some of their favorite toys, create some special playtime options depending on what your pup likes to do.
If your dog loves to dig, a digging corner will satisfy that desire while keeping the rest of your yard and garden intact. You can set up a sandy area in the corner or invest in a sandbox with cover. For dogs that love water and/or swimming, a child's pool or sprinkler attachment will provide hours of fun. High-energy dogs will appreciate a path or dog run they can use to patrol the area or run out their energy.
Designate a potty spot
Reduce unsightly urine spots on the lawn by designating a potty area. Crushed gravel or bark are ideal materials since they absorb urine. Artificial turf is a popular option since it instantly drains and can be quickly cleaned with a hose. When setting up the potty area, choose a spot away from the house and train them to use that area to relieve themselves.
Dogscape your yard
Using dog-friendly landscaping materials is one of the best ways to keep your pets safe at home. It's important for pet owners to do their research and use non-toxic materials and plants in their landscaping. This will reduce the instances of dogs getting sick from ingesting something potentially harmful. When choosing plants and flowers to add, refer to this list of plants to avoid provided by the ASPCA.
Now you're ready to turn your backyard into a happy place for you and your pet. Do you need a new home with space for your pets to romp around in? Discover the best in life in one of our Northern California communities. Visit us online at DiscoveryHomes.com to learn more about our new home communities and schedule a visit today!