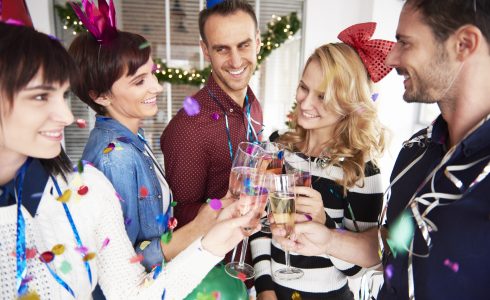 Potlucks, cookie swaps, holiday parties, Friendsgiving dinners…the winter months bring plenty of opportunities for entertaining. But hosting these gatherings add a lot of extra work that can potentially create a stressful experience. But these parties should be fun so check out these expert tips for stress-free holiday hosting.
Plan the party you want
The key to a successful holiday party is planning it around what you enjoy. Sure, we enjoy the Pinterest and Instagram inspirations, but if you're not much of a chef, trying to cook a six-course fancy sit-down meal is going to be extremely stressful, even for Ina Garten, the Barefoot Contessa!
Instead, plan the type of party you'd love to attend. If your holiday hosting speed is more like a potluck or grazing on several different appetizers and cocktails, go with that! Do you prefer a few well-placed decorations instead of turning your home into a completely on-theme setup? Go with that! Do what you know will excite and delight you and your guests.
Don't be afraid to ask for help
You may be hosting but there's no rule that says you have to do everything yourself. There's nothing wrong with asking for or accepting help. Ask your family to chip in to help clean the house before the party or hire a cleaner. If you have a friend that makes a fan-favorite dish, ask if they're willing to bring it. Purchase appetizers, side dishes, beverages, or desserts from the grocery store or bakery. Delegate or hire help so you can focus on the other responsibilities that need your full attention.
Make a game plan
A key to keeping stress at bay is to create a party game plan. It's worth sitting down and sketching out a plan for your party prep: what needs to be done, ordered and picked up, cooked, and set up. Start by working backward from the date of the party and create a loose prep schedule to follow. Figure out what can be done ahead of time and what needs to be done on the day of the party. Breaking these larger tasks into smaller ones will make everything feel manageable.
Forget about the flaws
Surrender the idea of hosting the 'perfect' party. Things are rarely perfect. If you need to scratch a side dish last minute or you experience some kind of hiccup during the day — let it go. Try not to dwell on the few things that went wrong; instead, focus on everything that went well. Your guests won't remember (or notice) that you had to make changes on the fly. They'll only remember the fun they had at your party.
Enjoy yourself
Don't forget to take time to enjoy your gathering. Your main goal is creating a space for your family and friends to connect and enjoy each other. Be sure to spend time with everyone who made the trek to your home.
Celebrate the holidays with Discovery Homes
Hosting friends and family during the holidays should be a fun time. Hopefully, these tips will help you entertain without stress.
Discovery Homes builds new homes throughout the Bay Area that are perfect for families of all sizes, whether you're looking for your first or your forever home. Ready to get started on your home-buying journey? Visit us online at DiscoveryHomes.com to learn more about our new home communities, view virtual tours, and more.