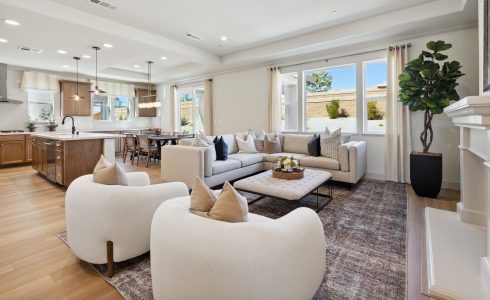 Buying a new home involves a lot of decision-making, from the location to desired features. What was once a nascent trend, energy efficiency has become an important priority for buyers, and for a good reason! Energy-efficient homes are designed to reduce energy consumption while protecting the environment (and your wallet). It's no wonder more buyers are prioritizing sustainable features in their new homes.
If you want your new home to be energy efficient, here are the top features to look for.
Proper insulation
Proper insulation keeps internal temperatures steady and your heating and cooling cost down. The Department of Energy estimates that about 25% to 35% of energy is lost through your windows and doors so having sufficient insulation is key.
High-performance windows
As mentioned earlier, windows can make a big impact on a home's energy efficiency. Standard windows can account for about half of all heat lost in an average home. Keep your home's internal temperature constant by getting energy-efficient windows like dual-pane or Low-E windows. These types of windows insulate more efficiently than standard windows.
Smart technology
Smart devices, like thermostats, give you more control over your energy usage while helping you save money in the process. Connected smart technology gives you the ability to control your devices from a distance; you can easily turn off your air conditioning or turn off the lights in case you forget on your way out the door. Here are some additional benefits of smart home technology.
Energy-efficient appliances
Your appliances are the largest group of energy consumers in your home. Investing in energy-efficient appliances is the best way to reduce energy use. Energy Star-certified appliances have the largest impact on your energy use. These appliances have been EPA-certified for their efficiency. Look for the blue Energy Star logo on the appliances to see their energy rating.
Homebuyers that want an energy-efficient home will need to do additional effort to find out if a potential home fits your requirements. If energy efficiency is a priority, buying a new construction home is a great option. New homes are more likely to offer more energy-efficient features than resale homes. Not only that, but builders are able to incorporate best building practices and materials to improve energy efficiency.
Ready to make the leap to homeownership? We're ready to help. Visit us online at DiscoveryHomes.com to learn more about our new home communities in the San Francisco Bay Area and the energy-conscious features we offer!