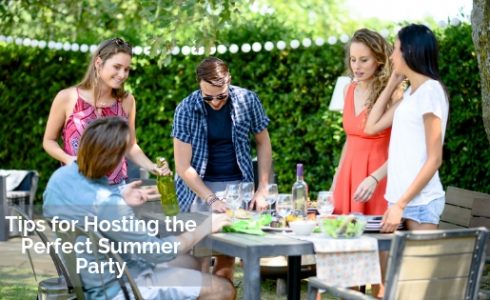 Summer is the season for vacations, barbeques, and fun. It's long days and nights are over the perfect backdrop for parties that stretch into the warm early evenings. The best thing about summer parties is that they're meant to be casual!
Use this hosting guide to help you plan for your next summer party.
Get your home (and backyard) ready
Get your new home and yard ready to welcome guests. Use the week leading into your party to spot clean around the house, focusing on the areas you expect guests to congregate. Make sure the bathroom is spotless and fully stocked so you don't have to worry about running out of toiletries during the party.
If you're having a housewarming, be prepared to give guests a quick tour through your home.
You'll want to make sure there's enough chairs for people to sit. Depending on the type of party you're hosting, you may not need to have a chair for each guest but you'll want to make sure there's plenty of seating available. Look to see if there are any chairs inside that can be used for additional seating. If you're still coming up short, renting additional chairs can be an affordable option as well. Many rental vendors will even deliver and pick up the chairs so you can just focus on the rest of the details.
Keep the menu simple
Do yourself a favor by keeping your menu, both drinks and food, simple. Family and friends aren't expecting a fully catered party with a bartender! Focus on food that can be made ahead, with grilled items that can be cooked in the hours before the party starts.
Use self-serve stations for food and drinks so guests can easily help themselves throughout the party, leaving you open to mingling with your guests. Just be sure to check in and refill as needed.
Light it right
If your party stretches into the evening, don't leave your guests in the dark! Set the mood with lanterns or string lights in the backyard. Be sure to light pathways and steps so your guests don't trip.
Have a backup location
While you won't need a rain date for summer parties, temperatures can get really hot, especially in certain parts of the East Bay. It's smart to have a weather-related contingency plan in case you need to move the party indoors so your guests don't bake in the sun!
Enjoy your summer party!
Don't forget to enjoy your own party! It's easy to forget when you're focused on making sure your guests have what they need, but they're here to enjoy your company as well. By putting in some work preparing before your guests arrive, you'll be able to be fully present with your guests during the party. Relax and have some fun!
Whether your party is in celebration of a graduation, birthday, shower or just because, your guests will have an wonderful time sharing conversations and laughter. Our Discovery homes are the perfect backdrop to host your next summer bash. Visit us online to view our new home communities today.