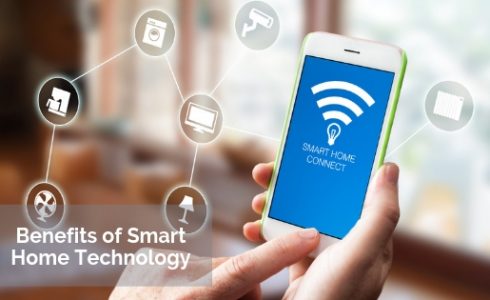 Technology has improved in a blink of an eye. Once computers used to take up an entire room and now, we carry them in our pockets! As technology has become more powerful and easier to use, we've been able to give our homes a technologic makeover.
Home automation, once the kept within the science fiction realms, has become readily available and affordable. We can now create a home system we can control from our fingertips. If you're thinking about making your own "Home Smart Home," here are some benefits of smart home technology you'll experience.
Increased energy efficiency
Today's smart technology has made it possible to use appliances with less energy than before. Smart thermostats make it easy to create a heating/cooling schedule so you don't have to run your system all the time (or risk forgetting to turn it off while you're away). Smart lighting systems give you the ability to adjust the amount of light you use base on the time of day and can turn off in empty rooms.
Improved security
Many smart home technology devices can be classified under home security. Aside from being able to answer your door while you're away from the house, smart security systems allow you to keep your family safe. They allow you to connect motion sensors, cameras, and automated door locks to create an integrated system. You can receive security alerts and monitor your home in real-time to make sure everything's okay.
Remote control at your fingertips
One of the most touted benefits of smart technology is the ability to control your devices from a distance. Thanks to connected devices and apps, you can now turn set the thermostat in your home so it's the perfect temperature when you get home from work, monitor your home while you're away, check to see if you left the lights on or if you need more milk, or even answer the door!
As more developers create apps and devices to control more aspects of our homes, you'll be able to control more with the power of your phone.
There are several perks of smart home technology, mainly the ability to relax and know that the mundane day-to-day homeowner tasks are taken cared of.
Discovery and Seeno Homes embraces this transition towards smart home technology. Our new homes can be outfitted with your chosen smart technology devices to create your own home automation system. Visit us online to find new Discovery and Seeno homes for sale across the Bay Area and Nevada.