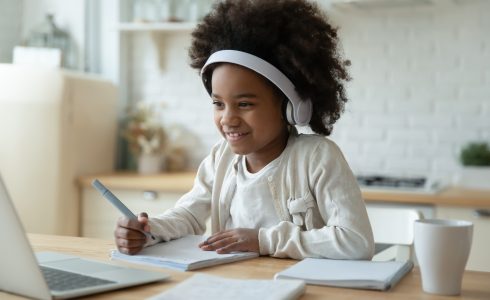 We're a few weeks into the new school year and most families have found their stride in managing distance learning. Transitioning to a virtual learning environment has been easier than during the spring, but you may still be wondering how you can improve your kids' at-home learning experience.
Whether your children are still learning remotely or have returned to in-person learning, they can benefit from having a proper study space at home. Here's how you can create a study space that'll boost your kids' productivity.
Location, location, location
Ideally, each child should have their own space so there's no interference if your kids are on live sessions at the same time. However, we understand that may not always be an option. So, work with what you have! Older children are usually more independent and can study in their rooms. Younger children may need more assistance so set them up in a room that's closer to where you'll be so it's easier for you to help them as needed.
Choose an area in your home that doesn't have a lot of activity and provides each child with ample room to work. You'll also want to make sure there's a strong Internet connection.
Remove distractions
One of the most important things you can do is remove any distractions from your kid's study area. Limiting outside distractions will allow your kids to focus on their schoolwork and work more quickly. Keep the television off during school hours, keep mobile phones away from the desk, or encourage older children to disable notifications. You can lose 5-10 minutes each time you stop to check the latest notification. Sometimes removing distractions may also include keeping your kids separated. If they need to be in the same area, investing in noise-canceling headphones may be a good idea.
Stock supplies
Kids will use every excuse to distract themselves, so keep them focused by keeping everything they need close at hand. If your kids are working from a communal space like the kitchen or dining room, store materials in a storage container. This keeps all their materials in one space and makes it easy to transition the space back into a family area once school is over for the day.
Make it well-lit and comfortable
It's hard to be productive when your work area is uncomfortable. Make sure your kids' study area is well-lit and comfortable. If you can, set your kids up in a space that receives plenty of natural light. If they're in a part of the home that doesn't get as much sun, use lamps as a supplement. Avoid using harsh lights that can strain their eyes and opt for LED lights that closely mimics natural light.
Since they'll be sitting for a long time, provide a comfortable and appropriate chair that is supportive. Sitting on the bed or couch, while comfortable, encourages poor posture that can cause discomfort and cause kids to become distracted.
Thoughtfully planning and setting up an effective study space will allow your kids to flourish during an unconventional school year.
If you've found your family needs more space, we can help. We strive to build the perfect home that meets the needs of all types of families. Visit us online at DiscoveryHomes.com to learn more about our communities throughout Northern California.