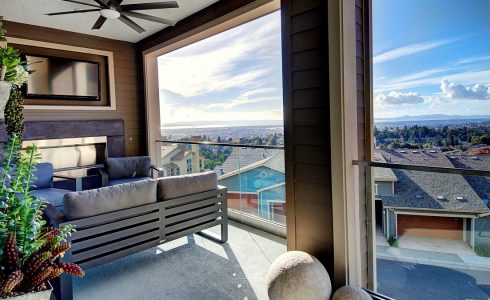 Outdoor living spaces continue to be on homebuyers' wish lists for good reasons. They extend the livable area of your home and provide additional entertaining space. They also give homeowners a private place to enjoy some fresh air and open space.
You can create a dream outdoor living space in any sized yard. Here are some of our best tips for designing a beautiful outdoor living space that feels like an extension of your home.
What's your purpose?
First things first, you need a plan. What do you want to do in your new outdoor living space? Do you want to host dinner parties or BBQs? Want a quiet space to relax? Does your space need to be kid or pet-friendly? These factors will affect how you set up, furnish, and decorate your outdoor living space. Take time to fully consider how you want your new outdoor space to function and create a plan to support that.
Define your zones
Use the same considerations you made when decorating your home for your outdoor space. Define zones for each area of your yard for specific uses: placing the dining area close to the kitchen or grill makes it easy to bring food to the table. Create additional seating areas by clustering chairs and benches together. Set up an area in the corner where kids can safely play. However you set up your zones, be sure to establish clear traffic patterns so it's easy to move from one area of your yard to the next.
Provide shaded areas
Protect yourself and guests from the elements with shaded areas. If you're lucky enough to have a covered patio, you're all set. If not, consider creating shaded areas in your yard with umbrellas, canopies, or pergolas to keep your guests comfortable.
Choose durable furniture
When it comes to outdoor furniture, choose something that can withstand the elements and look good at the same time. Look for quality pieces made from weather-resistant materials like teak, aluminum, wrought iron, and resin wicker. These pieces will look great for years. Make sure any fabric cushions are also weather-resistant and washable.
Add pops of color
Add pops of color throughout your outdoor living space with accessories like throw pillows and blankets, outdoor rugs, and even potted flowers and plants.
Light it up
Don't let the sun set on your outdoor fun! Lighting your outdoor space means you can enjoy the fun well into the night. Let your design style inspire your lighting options. Twinkle or string lights are great for a whimsical look. A chandelier or ornate lampposts make a luxurious statement. Have a little fun with some tiki lights or set the mood with a fire pit. Whatever lighting option you choose, make sure it provides enough light so you can safely enjoy your backyard at night.
Bring your dreams of a luxurious outdoor living space to life with these design tips. If you're on the hunt for the right home with plenty of backyard space, Discovery Homes can help. Many of our new homes have ample space for you to create the perfect backyard retreat. When you're ready to find your dream new home, visit us online at DiscoveryHomes.com to learn more about our Northern California communities.