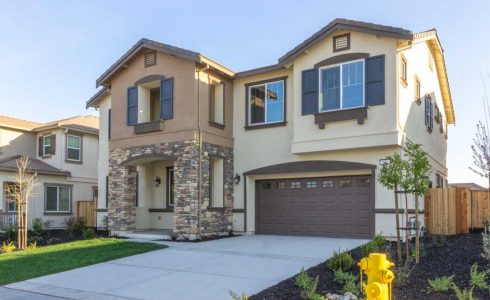 If you currently own your home, buying your next home can feel overwhelming. How do you juggle two real estate transactions? Should you sell first or buy first? Can you handle two mortgage payments? Is it possible to time the whole process and do everything at once?
Second-time homebuyers face a few unique challenges when it comes to selling and buying a home at the same time. There are two different strategies to consider, both with their own set of quirks. We break down your options and key points to consider so you can make the best choice for your situation.
Option 1: Selling before buying
Many second-time buyers choose to sell before buying their next home. This option is pretty straightforward and significantly reduces financial stress. You don't need to worry about managing two mortgages, can use the sale proceeds to fund your next purchase (and reduce your debt-to-income ratio), and is easier to budget for.
This option isn't without some downsides. The main being that you're left in limbo, living in temporary housing until you find your next home. That also means you'll need to move twice: once into your temporary living situation and again into your new home. Finally, you may begin to feel the pressure of finding your new home and commit to something that's less than ideal.
If you choose to sell your home first, there are a few things you can do to make the process go smoothly:
Plan for the gap period: before listing your home, secure a temporary place to live. This could mean staying with family or friends, or in an extended-stay hotel or other short-term housing services. Another option is entering into a "lease-back" agreement with the buyer of your current home that will allow you to "rent" the home for a certain period of time while you look for your home.
Know what you're looking for in your new home: you don't have to wait until your home is sold before you start thinking about what you'd like in your new home. Start creating a list of your must-haves and research neighborhoods. You can begin earnestly looking for your next home once you receive an offer on your current home.
Be ready to buy: get your financial information in order and have a lender in mind. This will enable you to get preapproved for your new mortgage and ready to make an offer once your current home sells.
Option 2: Buying before selling
Buying first makes it easier to move. You'll have the security in knowing where you'll be going next and can take your time moving things over. It's also a good idea if you're on a tight deadline and need to be somewhere by a certain date. Another benefit is having a more relaxed home search, allowing you to find the right home without pressure.
On the flip side, buying first requires a lot of financial resources. You will need to have enough to cover two mortgages until you're able to sell your current home, a down payment, closing costs, moving expenses, and upkeep of both homes. It can also be slightly more difficult to secure a mortgage since you'll have a higher debt-to-income ratio thanks to the second mortgage.
If you choose to buy a new home first, here's what you can do for a smoother transition:
Consider adding a contingency clause: include a sale contingency on your offer for the new home, making your offer pending until you sell your current home. If your home doesn't sell in a predetermined amount of time, you can back out of the deal.
Request an extended closing: if you're sure your current home will sell in a short amount of time, you can request a later closing date that's past the standard 30-45 days. This can give you enough time to sell your home.
Research HELOC or bridge loans: this option helps weather the financial concerns of buying first. These short-term loans tap into your home's equity to free up money for a down payment.
Rent out your first home: if you don't need to sell your current home to fund the purchase of your new home, consider turning your current property into a rental property. This will allow you to cover the mortgage on your first home while giving you an investment vehicle.
Other conditions to consider?
Still unsure of which option is the best? Here's are a few other conditions you should consider to help make the call.
Local housing market condition. The state of your local real estate market will have the biggest impact on your decision. If you're looking to move to a new area or out of state, it's important to evaluate both markets since conditions can vary greatly between areas. A local real estate agent can help gauge the current market conditions and create a buy/sell strategy.
There are two main market types: a buyers' and a sellers' market. In a buyers' market, there are more homes available than buyers. Buyers have a lot of homes to choose from and it's much easier to find one. Sellers tend to be more flexible in this situation in hopes of selling their homes. In a sellers' market, there are more buyers than homes available. In this type of market, competition for homes is fierce and homes don't stay on the market for long. Buyers do their best to make the best offer in hopes of landing the home.
State of your financials. Which option is financially feasible for you? Are you able to manage two mortgage payments in case it takes longer than expected to sell? Conversely, do you have enough money for the down payment or would you need to use the proceeds from your home sale? Meet with a mortgage lender and financial planner to review the state of your finances. They will be able to dig into the amount of liquid cash, equity in your home, and the available loan products you qualify for to help you make a good decision.
How quickly you need to move. When do you need to move? Is there some flexibility or do you need to be somewhere by a specific date? If you're working with a firm deadline, buying your new home may be your best option.
The process of buying and selling a home at the same time can be complicated, but understanding the process will empower you to make the right decision and plan appropriately.
When you're ready to start your journey to your next new home, we're ready to help. Visit us at DiscoveryHomes.com to learn about our new home communities throughout Northern California, view floorplans, pricing, and schedule a visit! We look forward to helping you find your home.