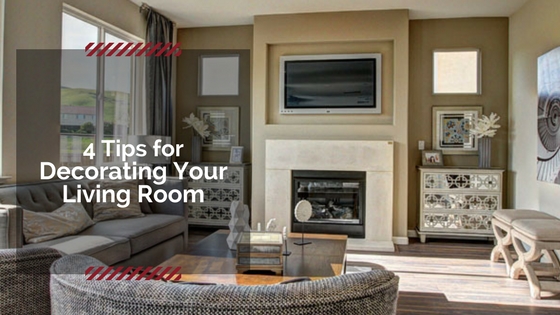 Whether you call it the living room or family room, it's the spot where your family comes together to relax and enjoy themselves; it's probably one of your family's favorite space in the home. Living rooms are versatile spaces; often switching between entertaining guests to giving your family a room to lounge in together to watch television.
There's more to decorating the living room than just picking a paint color. Use these tips to help decorate any type of living room.
Choose a focal point and thoughtfully arrange furniture
Most people default into pushing all the furniture against the wall and walking away. Instead, choose one point in the room, like a window, fireplace or television, and arrange furniture around it. This allows you to find the right balance in placing pieces when creating conversation areas and considering the traffic flow through the room.
Pick complementary design elements
You don't have to go the matchy-match route to create a room with good flow. Choose design elements that complement each other, either in style or color, to create a unique space.
Change up the shapes
If you have mostly squarish furniture pieces, soften the look and feel of the room by introducing rounded design accents.
Layer lighting
Living room lighting serves two purposes: as a light source and a decorative element. Supplement existing lighting with floor or table lamps to create a mix of functional task and ambient lighting options to brighten up the space and allow for tasks, like reading or working, to be done comfortably.
These living room design tips will help you create a comfortable and inviting living room you'll want to be in with family and friends.