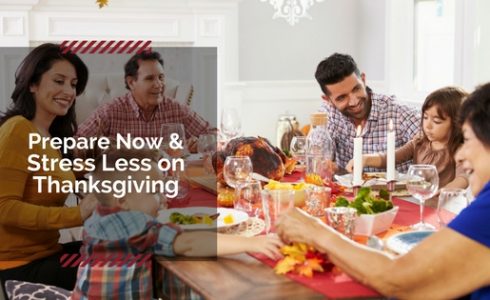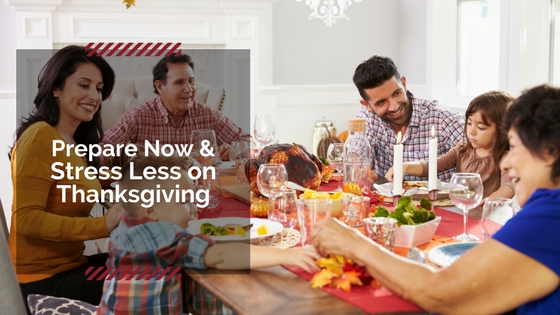 It's time again for Thanksgiving, whether you're ready or not. For many people, Thanksgiving is the largest meal they'll prepare. It can be overwhelming for both the novice hosts and seasoned pros; but preparing now will help make delivering a flawless feast possible.
Vow to make this year the year you stop running around your kitchen in a mess and use this guide to streamline your Thanksgiving prep and have a smooth and enjoyable holiday.
Three to Four Weeks Before
Create your guest list. Decide how many people you will be inviting for dinner and begin to secure responses. Considering how many people you can comfortably host (whether you want one large table or several seating areas throughout your home). Knowing how many people are planning to come will help you plan your menu.
Plan your menu. Decide how you'll prepare your bird and select which dishes you'll be serving. Start with the classic side dishes and family favorites, rounding the menu out with other dishes. While it's fun to try a new dish, this isn't the time to try a recipe you haven't made before; better to stick with what you know. Remember: just because you're hosting Thanksgiving doesn't mean you must cook everything! Feel free to ask guests to contribute their best dishes.
Order your turkey and make a shopping list. Ordering your turkey ahead of time is especially important if you need a specific size or type of bird (heritage, organic, free-range, etc.). This will make sure you don't have to run around trying to find the right bird the week of. You can also start creating your shopping list and buying non-perishables like pantry ingredients (flour, sugar, canned food, etc.) and gear like cooking tools, serving dishes, and cleaning supplies.
Two Weeks Before
Clean out your fridge.Your fridge is Thanksgiving central so clean out the unnecessary items and mystery bags of stuff to make room for all the food that will be going in. This is also a great time to check your current stash to see if there's anything else you need to buy during your next grocery trip. You don't want to have to make a last-minute store run on Thanksgiving morning!
One Week Before
Clean your house. Designate the weekend before Thanksgiving to clean your home and prepare for any overnight guests.
Create your cooking schedule. Set up a cooking schedule with recipes, cook time, and oven temperatures so you know what needs to be in the oven at which time. Start with what time you'd like to serve dinner and work backwards.
Thaw your turkey. If you purchased a frozen turkey, start the thawing process now. Plan on taking about 24 hours for every 4 to 5 pounds of turkey.
The Week of Thanksgiving
Go shopping for perishables. Now is the time to start shopping for the rest of your Thanksgiving menu, including dairy, produce, meat, and everything else you will need.
Prep and make-ahead dishes. Wash and prepare vegetables for (except potatoes!) and keep them in the fridge. Certain dishes like gravy, cranberry sauce, and desserts can be made ahead, whether it's just prepping parts of the dish to cook or bake on Thanksgiving or simply reheated. This will reduce the number of dishes you'll have to make the day of, allowing you to focus on the main attraction: the turkey.
Set the table. Thanksgiving is always busy so take advantage of the calm and set your table the day before. You can also pull out the serving dishes you plan to use and assign dishes for each one (placing a post-it note with the dish name inside works).
Thanksgiving Day
Run through your plan. Today's the day! The schedule you created the week before will now go into play. Refer to your schedule to stay on track. Knowing what you've done and will do next will help reduce stress. Just be prepared for unexpected hiccups.
Enjoy Thanksgiving! You did it! The turkey is done, everything is on the table, and your guests have all arrived. All that's left is to sit back and enjoy your family and friends. And hopefully someone else will wash the dishes for you.