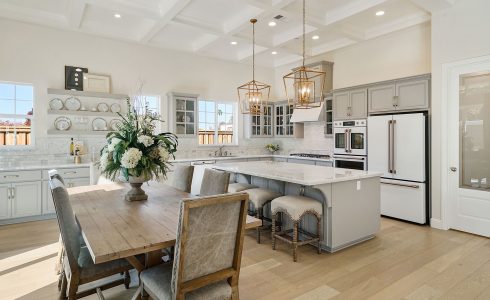 For many people, the kitchen is the center of their home. Its where the entire family gathers. While it can be easy to keep this busy room clean, managing the clutter can often feel overwhelming, if not impossible. Having a clutter-free kitchen doesn't have to be a dream. With a little work, you can make it a reality in your home! If the sight of your kitchen makes you feel stressed and overwhelmed, don't despair! We have some helpful steps to gain control over your kitchen once and for all.
Keep the counters clear
A common trait of clutter-free kitchens is clear countertops. Counters are a magnet for clutter, attracting everything from shopping bags, mail, dirty dishes, and more, making it difficult to prepare meals. Looking at a cluttered space every day adds to your stress level so reclaim your space by keeping your counters for just functional and essential items you use daily, like a salt cellar, toaster, or coffee maker.
Remove the art gallery from the fridge
Let your fridge be a fridge! The paper, magnets, photos, and notes all add to the visual clutter in the kitchen. Your kitchen will immediately look and feel neater once you remove them. If you rely on the fridge door for notes, consider creating a kitchen command center with a well-placed bulletin board to hold your papers.
Make space for paper
From newspapers, mail, paperwork, and notes from school, a lot of paper comes through the kitchen. Get into the habit of sorting mail when you get it, tossing junk mail into the recycling bin, and placing the bills and other paper items you're keeping in a designated spot. Just remember to file, recycle, or toss them when you're finished.
Put dirty dishes away
One of the easiest ways to keep your kitchen clutter-free is to immediately put dirty dishes in the sink or dishwasher instead of sitting them on the counter.
Get rid of extra gadgets
Are your cabinets filled to the brim? If so, it may be worth going through and getting rid of any items, small appliances, or other gadgets you don't use. Donate, sell, or give away anything you don't need. This will free up valuable cabinet space you can use for other essentials. Maintain the extra space by instituting a "one in, one out" rule for everything new you bring into the kitchen.
Embrace the junk drawer
This may sound counterproductive but hear us out: having a designated place for all the inevitable odds and ends (paper takeout menus, small tools, pens, etc.) will keep them off your counters. Don't forget about your drawer though. Take time each month to review the contents and either find a permanent home for the items or toss anything you no longer need.
Start fresh each night
Get into the habit of leaving your kitchen better than you found it. Establish a nightly routine of wiping down the table and counters, putting away clean dishes or loading the dishwasher, and removing items that don't belong in the kitchen. This will keep clutter under control and your kitchen sparkling.
Conquering the clutter in your kitchen once and for all will transform your space. Not only will cleaning and meal prep become a breeze, but you'll also feel better about your kitchen and more refreshed!
Discover the best in life with Discovery Homes. Visit us online and search our communities in Northern California and Nevada. We're excited to help you find your dream home.