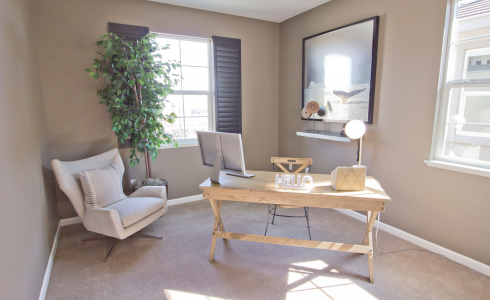 As we continue to work from home, creating a dedicated office space has its advantages. With some planning and effort, you can design a home office space that inspires efficiency and productivity.
Choose your space carefully
For some, choosing a spot is simple. Their home may have a dedicated office space or an empty bedroom that can easily transform into an office space. For others, you may need to get a little creative when carving out space for an office. Look at unused corners in other rooms to see if there's space that can be converted into an office space. Be mindful of how you react to noise and distractions. If you're easily distracted, setting up your home office in or near the kitchen or living room may not be the best option.
Get the right light
Lighting is often overlooked but it's just as important as the type of chair and desk you have. Try to have as much natural light in your space as possible to reduce the chances of eye strain and headaches, which cut into your productivity. Supplement whatever natural light you do get with artificial lights. A mix of different types of lighting is a good idea to accomplish this. In addition to any overhead lights that may be in the room, include a mix of floor lamps and task lighting on your desk to keep your office well-lit.
Prioritize comfort
You'll spend hours sitting so make sure you find a chair that is comfortable and supportive. Avoid borrowing a chair from the dining room and invest in an ergonomic chair. Sitting in a chair without the proper back support will lead to discomfort and potential posture issues. Look for an ergonomic chair that has: adjustable height, a 360-degree swivel base, adjustable back and armrests, adjustable seat depth, and lumbar support.
Find the right desk
Whether you use a traditional "fixed" desk or a standing desk, select one that gives you enough space for everything you need to do your work.
Accessorize and personalize
The perks of working from home are being able to put your personal stamp on your workspace without worry. Display artwork, a few favored desk accessories, photos, anything that motivates and inspires you to work.
When it comes to outfitting your home office, there isn't a one-size-fits-all approach. Your home office should be a space where you can focus and is a place you actually want to be.
Many of our floorplans include a flex space that's perfect for a home office, whether it's a dedicated room or a cozy nook. Visit us at DiscoveryHomes.com to learn more about our new homes and find the right home for your family.