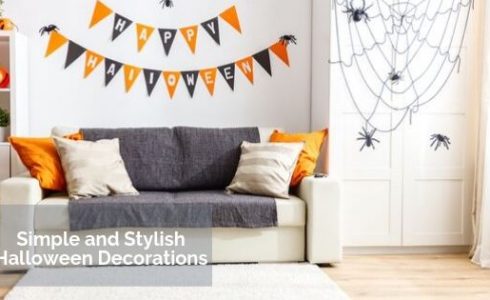 It's October and we're feeling the Halloween spirit! Trick out your home with these simple and stylish Halloween decorations that will impress guests and trick-or-treaters without overwhelming your everyday style. These Halloween decorations can fit any theme, whether its cute and colorful or dark and creepy. But the best part: they're all simple to put together and spookily stylish.
Branch out
Embrace a more rustic approach to decorating by using branches. You can gather an assortment of fallen tree branches from your yard or buy some from your local craft store. If you want to make them extra creepy, hang toy spiders or cobwebs from them.
Festive pumpkins
Another great natural decoration, pumpkins are the fall season MVP. You can cook them, carve them, and even decorate them. They're simply stunning on their own or grouped together, carved, or even painted bright colors or striking metallics. Since they come in different sizes, you can easily use them all-around your house.
Spirited wreaths
Wreaths are great for any holiday. They're a fun way to add a stylish flair to your home, inside or out. They can be as spooky or classy as you like! You can purchase wreaths or take on a DIY project and make the perfect one for your home.
Hang a garland
There's something special about a garland. They're a great way to decorate any space. The best part: they're easy to store and can be used year to year. There are a lot of great store-bought options or you can make your own, like this festive candy corn garland from candy corn, monofilament fish line, and tape!
Spooky Candles
Whether you're holding a séance or just setting the mood, candles make the perfect home accent. Candles can add a creepy factor that isn't gory or ghoulish. Group several candles together in a Halloween-inspired vignette or place them in a candelabra. You really can't go wrong!
Whether you go the DIY-route or hit up your favorite store, these tips for simple and stylish Halloween décor ideas will make it easy to trick out your house.