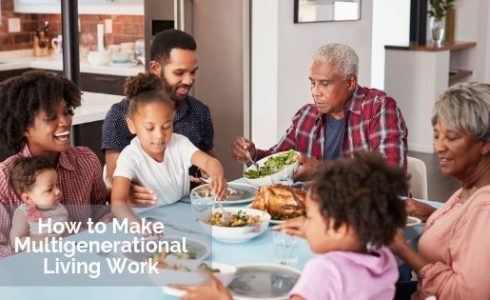 Multigenerational living, which was once a cultural phenomenon, has slowly become a national trend. The reasons for multigenerational living are as diverse as the families. For some families, it's a cultural expectation. Some are caring for aging parents, others have adult children returning home, and in some cases, adult children haven't left. Multigenerational living creates its own unique challenges so here are some tips to make multigenerational living work for your family.
Set expectations and boundaries
Plan for success by communicating with your family. It's important to define responsibilities, expectations, boundaries, and more. If you're expecting financial assistance with bills, discuss this in earnest. Everyone should be on the same page. Doing so will reduce instances of hurt feelings and drama.
Prioritize privacy
Living with multiple people, especially adults, in close quarters can create some tension within the family. It's important that everyone feels comfortable and has their own private space they can retreat to when they feel overwhelmed or simply need a bit of alone time.
Split up chores and expenses
Decide how everyone will contribute to household chores and expenses. Be clear on how bills will be paid and who will be paying for what (will you split all bills evenly or split bills?) as well as how household tasks will be divided. Come to an agreement for what works best for your family's situation and be open to adjusting in the future as needed.
Connect as a family
One of the main benefits of multigenerational living is having the family together! Take advantage of this golden opportunity by creating routine time together through family meals, game nights, or just spending time together in the same room.
Discovery Homes builds brand new homes that are perfect for every size family. We're sure you'll find your dream home the entire family will love. We invite you to tour one of our several new home communities throughout the Bay Area and Nevada and learn more about our homes. We're excited to welcome you home.