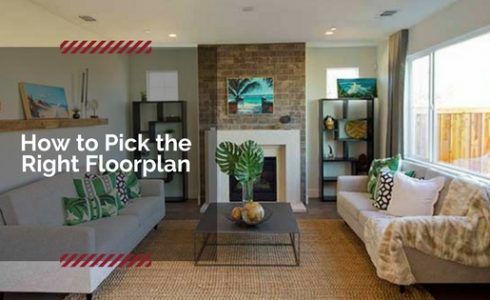 Selecting the right floorplan for your family is a very important and time-consuming decision. Many factors, from the size, shape and even how the rooms are laid out, can affect how you respond to the home. With so many options, it's easy to become overwhelmed when figuring out which plan is just right. Before you pull your hair out in frustration, follow these 5 tips to help you determine with floorplan is right for your family:
What are your needs and wants?
Before you begin touring homes, it's important to determine what you need and want in your new home. What's missing from your current home that you really need (e.g. more storage? Extra bedrooms? A second bathroom?) in your new home? Your goal is to find a floorplan that improves and makes life more convenient.
What's your family's future?
In addition to the identified needs and wants, also consider your family's future; will you be growing your family? Do you anticipate having your parents or other older relatives move in? Are your children moving out soon? A home is an expensive purchase so you want to make sure you will be able to comfortably live in your home for several years. Be sure your new home has the adequate space your family needs.
What's your decorating style?
Believe it or not, but certain decorating styles work better with specific plans than others. If your heart is set on a more traditional decorating style, then a home with distinct rooms whereas if you lean more towards transitional or modern design sensibilities, an open floor plan will work well.
What's your budget?
It's tempting to push your home budget to the extremes when searching for a new home, especially when you consider the additional features and upgrades. Setting a realistic budget may help you identify the trade-offs between upgraded features and additional space. But don't just consider the purchase budget! Remember that a much larger home also means higher utilities and more time to clean and maintain.
What does your gut say?
After considering the first four tips, sometimes selecting a new floorplan comes down to a feeling. When you're touring new homes, be attuned to how you feel about the home and the flow of the space. Sometimes you just know when something is right.
At Discovery Homes, we understand that buying a new home is a major decision and advise all our homebuyers to take the necessary time to consider what they need in their new home. Doing so improves the chances you'll love the home you do choose for several years to come.
Ready to find your new home? Visit us online at DiscoveryHomes.com to explore our new home communities, learn about our current promotions, and more.