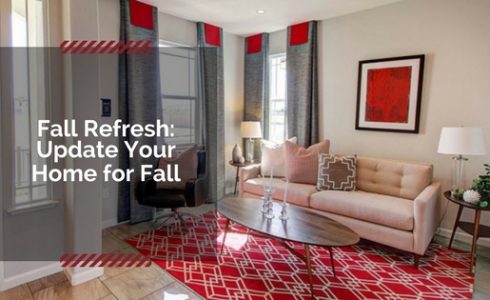 Fall is a favorite season for many reasons: from warm colors and sweaters, spice-filled flavors, and even the lead up to the holidays. This transition from summer to fall is the perfect opportunity to refresh your home. Use these three simple tips to update your home for fall with autumn-inspired colors and accessories to embrace for this new season.
Cozy up with a throw and plush pillows
The theme of fall is "cozy" and one of the easiest ways to make your home cozier is to add warm throw blankets and plushy pillows. These items are the go-to accessories for cozying up in the evening with your family or on your own. This is also a great way to incorporate seasonal colors without the large commitment of changing your furniture or painting.
Change your florals
Florals are a great way to decorate any space. We recommend swapping out your summer florals for fall species that fit the season's color palette. Some seasonal florals include twisted branches, mums, pansies, eucalyptus and even pumpkins and gourds. Don't feel constricted to these choices; any flower in the warm, fall color palette works well!
Light up with candles
Make the cooler weather and shorter days more enjoyable with candles. Candlelight can bring a sense of warmth and help to relieve stress and anxiety. If you're a fan of scented candles, there are a lot of sweet and spicy fragrances that will put anyone into the fall spirit.
Get ready for fall and the oncoming holiday season with these easy and inexpensive ways to refresh your home.