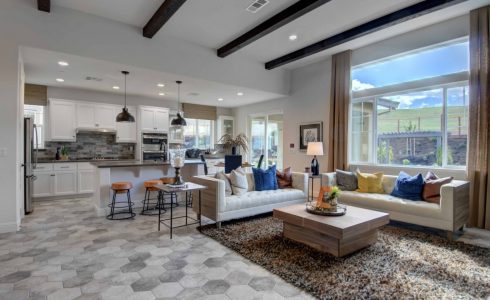 The new year brings along a new resolve to improve yourself, whether it's to get more organized, lose weight, eat healthier, or develop a new hobby. However, for many people, keeping your new year's resolutions can be difficult. But did you know your home could be your best ally in accomplishing your goals? Here are a few ways you can use your home to set yourself up for success.
Read more
Want to make more time to read this year? Create a cozy spot in your home to be your reading nook. While you can read anywhere in your home without a specific setup, having a dedicated reading spot will make curling up with a book something you'll look forward to doing every day. Set up a comfy chair near a window for daytime reading and a lamp for late-night reading sessions. Add a small side table for a drink or snacks, a throw blanket, and maybe even an ottoman to complete your nook.
Be more organized
Getting organized is a great way to kick off the new year. If you dream of having an organized and clutter-free home, it's possible! Try these tips for organizing your home. Once you've banished the clutter, keep it up by regularly reviewing your stuff and getting rid of older objects you no longer need.
Have a healthier lifestyle
Creating a healthier lifestyle is a satisfying and common goal. Who doesn't want to feel better and stronger? A healthy lifestyle begins at home so set yourself for success: stock your kitchen with healthy foods and pots and pans so you're able to cook without relying on takeout. Organize your pantry and keep it stocked with alternative healthier snacks. Turn an empty room or carve out some space in your garage to create a workout space or yoga studio to encourage a more active lifestyle.
Get more sleep
Sleep plays an important role in our physical health. You'll feel better after a proper night's rest. With a few thoughtful changes, you can create a bedroom that helps you sleep. Promote better sleep by installing blackout shades, upgrade your mattress and pillows, make sure your bedroom is at the right temperature, remove clutter, and choose soothing paint colors. Other habits to develop is reducing your screen time before going to bed, and avoid consuming caffeine or eating too late in the day.
Discover a new hobby
Indulge your creativity and curiosity with a new hobby, like gardening, learning a new language, playing an instrument, baking bread, or whatever else your heart desires. Create a designated space in your home, whether it's a spare room or a space that's carved out from a shared space that inspires you to pursue your new passions.
Discovery Homes offer the perfect canvas to create an encouraging environment so you can achieve your goals for the new year. From flexible floorplans to innovative design features, we're sure you'll find the right home for your family. Visit us online at DiscoveryHomes.com to learn more about our new home communities throughout the Bay Area and find the perfect home for you.