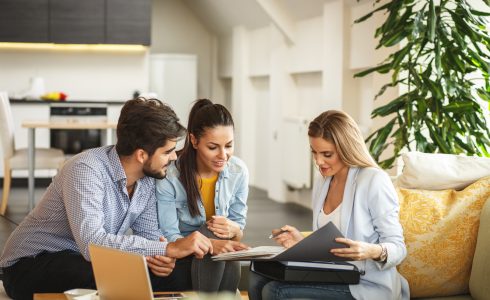 Deciding to buy a home is a major decision. It's an exciting and potentially stressful moment in life but with the right information, you can feel confident in your decision to jump into homeownership. Whether you're starting to figure out what you need to do to buy a house or already started saving for a down payment, here's how to make sure you're financially prepared to purchase your first home.
Check your credit
Your credit score is essential: not only does it show you're responsible for paying off debt; it also makes it easier to qualify for a favorable interest rate. Why does that matter? Lower interest rates make your home purchase more affordable. Lenders reward borrowers with high credit scores with lower interest rates on their mortgages, which can potentially save thousands of dollars over the life of a loan.
You're entitled to a free copy of your credit report from all three credit reporting bureaus each year through AnnualCreditReport.com. Review your report and report any errors. The earlier you start this process the better; it can take several months for an error to be removed from your credit report.
Your credit score is based on your credit report, so it's important your credit report is accurate. Your credit score may not be available on those reports but there are a few ways you can request your credit score:
Check with your credit card, bank, or loan statement: Some credit card companies, banks, and loan companies provide credit scores to their customers. Check a recent statement or online account to see if it's available.
Purchase credit scores directly from the credit bureaus: you can purchase access to your credit score from one of the three credit reporting bureaus or from a third-party provider like FICO.
Use a free credit scoring site or paid credit score service: there are a few credit scoring websites that offer free credit scores, like NerdWallet or Credit Karma, and some provide credit scores along with credit monitoring services for a monthly subscription fee.
Use this time to maximize your credit score. Here are a few ways you can improve your credit score:
Pay all your bills on time
Keep credit balances low (and avoid taking out new debt!)
Keep your current credit cards open. Closing an account will increase your debt load which can lower your credit score
Consult a mortgage lender
Meet with potential lenders to learn where you currently stand on securing a mortgage. You can get prequalified to get an estimate of the amount you may be able to borrow. Remember: getting prequalified is does not guarantee you a mortgage nor are you obligated to use that lender in the future. Prequalification is a great way to get an estimated homebuying budget and determine if there's anything you need to do to improve your situation.
Research mortgage options and homebuyer assistance programs
There's more than one way to finance a home! Did you know there are other mortgage options beyond a conventional loan? Smart buyers take time to research the different loan types to understand their options and chose the option that's right for their situation (this is another reason why meeting with a mortgage lender is helpful!) Become familiar with the different types of loans that are available (like an FHA loan or VA loan if you're a member of the military) and how mortgage rates work.
Many states also offer first-time homebuyer programs that make homeownership achievable. These programs often combine low-interest rate mortgages with down payment and closing cost assistance. Some resources to check out include Down Payment Resource, HSH.com, or the Department of Housing and Urban Development for state-specific requirements and qualifications.
Decide your homebuying budget
If you've met with a lender, you can use the estimate they provided to base your homebuying budget on. You don't have to spend the full amount though! You should review your finances and determine how much you'll be comfortable spending on your mortgage payment.
Research the market
Start checking out real estate listings in your desired neighborhoods to begin understanding what types of homes are available in your budget range. Your research can include attending open houses or viewing virtual tours. This is also a great way to begin to figure out what features and amenities you want in your new home.
Buying a new home is a big step! There is a lot of moving parts to consider but with some preparation, you'll put yourself in a strong position to be ready to put an offer on your dream home when you find it.
We build new homes throughout the Bay Area that are perfect for families of all sizes, whether it will be your first home or your forever home. Visit us online at DiscoveryHomes.com to learn more about your new home communities, view virtual tours, and more. We look forward to welcoming you home.