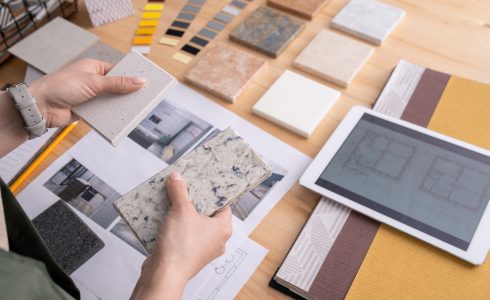 Designing a new home is an exciting process and one of the most fun parts of buying a new construction home. It's your first opportunity to bring your dream home to life, transforming your vision into a beautiful, functional space. But it can also be stressful and overwhelming if not approached correctly. Here are 6 tips to help prepare for your design appointment.
Make a list of must-haves
Get the most out of your design center appointment by coming in armed with a list of your likes and dislikes. There will be a lot of options available so having a clear understanding of your design preferences will prepare you to successfully work with your builder and create a space that genuinely reflects your taste and style.
Gather inspiration
Collect pictures and magazine clippings, or even create a Pinterest board of ideas that appeal to your design sensibilities. This way, when it's time for your appointment, you'll have a visual representation of what you like and don't like. It also helps to have actual items that represent potential features such as knobs or tile samples so you're able to accurately visualize how they'd look in your space.
We recommend you walk the models at your community and take a picture or make notes of the items you want in your home.
Know your budget
When it comes to designing your home, there's a lot of temptation in the design center. With endless choices and options, it's easy to go off track. Knowing how much you can spend – and where you can be flexible – allows you to make decisions without stress. Our design professionals can work with any size budget. We'll explore all of the possibilities that fit perfectly into what you can spend so nothing is ever off limits when creating a perfect home for yourself and your family.
Do Your Research
Get familiar with the different options available such as style, materials, fixtures, etc., so you can make informed decisions during the appointment. Understand which options are standard and premium upgrades. Doing additional research beforehand will also give you an idea of the budget that's necessary to achieve the look and feel you want in your home.
Take photos of your furniture
Incorporating existing furniture into your new design can help save money and maintain a sense of continuity throughout your home. Take photographs of any furniture pieces that you plan on keeping and would like to integrate into the new design. This helps the design center consultant get a clear understanding of your existing pieces so they can recommend complementary design elements.
Have fun
Don't forget that designing a home should be enjoyable! Keep an open mind about different suggestions or ideas that may arise. After all, it's going to be your dream home at the end of the day so don't be afraid to get creative with it!
Designing your new Discovery home is an exciting moment. Our experienced Design Consultants are a valuable resource about design trends and will be able to help you bring your dream home to life. We want to make sure your new home meets your expectations, so don't be afraid to ask questions, provide feedback, and express your opinion throughout the process.
When you're ready to buy, we hope you'll consider Discovery Homes. We build new homes throughout the Bay Area that are perfect for families of all sizes. Visit us online at DiscoveryHomes.com to learn more about our new home communities, view virtual tours, and more.