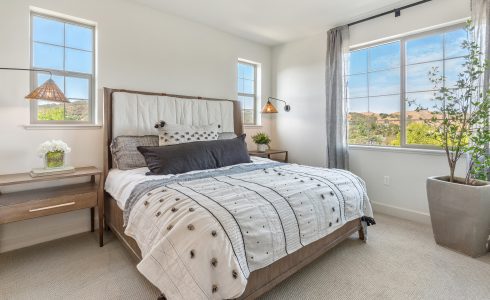 Many homeowners are excited to be able to host friends and family for an overnight visit in their new home. Creating a space where your guests feel welcomed and can relax can be satisfying. Whether you're expecting guests this weekend or several months from now, here are some tips for creating a welcoming guest bedroom.
Make it comfy
A comfortable bed is a top priority, whether it's a regular bed or an air mattress. In addition to providing fresh and clean bedding, consider upgrading the guest bedding with high-quality linens. You don't have to break the bank trying to recreate a 5-star luxury hotel experience (unless you want to). Any high-quality bedding set will work. You can also make an air mattress more comfortable by adding a mattress topper.
Supply extra linens
From bedding to bath towels, providing guests with more than they need is always a good idea. Some guests may feel like they're imposing by asking for more, so already having spares available will remove that awkwardness. Be sure to include also extra blankets and pillows so they can get comfortable as needed.
Bonus: if you have a guest who insists on changing the sheets at the end of their stay, this will enable them to do so. Be sure to thank them!
Don't forget the toiletries
Stocking your guest room with toiletries is a thoughtful touch. Place a basket of extra toiletries like shampoo, conditioners, lotion, toothpaste, toothbrush, body wash, and even individual packets of pain relievers – basically anything you'd request from the front desk.
Help guests stay connected
Provide guests with your home's wi-fi password so they can connect their devices to your internet network. You can write it out on a piece of paper and place it in the room or create a sign with the password. This makes it easier for guests to connect without needing to interrupt you or struggle with a lengthy password.
If you prefer to keep your home's network password secured, many internet providers allow you to create a separate guest password you can share instead.
Spend the night
Wondering if your room is ready for guests? Give it a trial run. Spend the night – or a nap, and see if the room works well for guests. Staying over in your guest room will give you the perspective of your guests. You can figure out what's working in the room and what could be better. Does the sound carry from the rest of the house? Is there enough lighting? Does the room get too hot or cold overnight? These are things you'll notice after spending some time in the room.
Whether you have a dedicated guest room or temporarily using one of your kid's rooms, these tips will help you create a welcoming space your guests will appreciate.
Do you need extra space for guests or simply more room for a growing family? We have several new home communities throughout the Bay Area with homes available now. Visit us online at DiscoveryHomes.com to learn more about our communities, view floorplans, and more. We look forward to helping you find your new home.