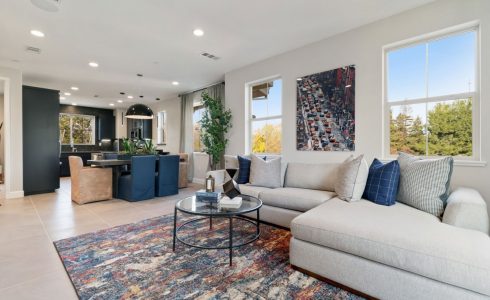 Keeping up with regular home maintenance tasks is an important part of owning a home. Not only does it help maintain your property value, but it also saves you time and money in the long run by allowing you to fix minor issues before they become major (and expensive) problems.
As winter is coming to an end, here are a few home maintenance tasks to take care of to get ready for the warmer months ahead.
Exterior maintenance
Check the roof. Use binoculars to inspect the roof for missing, loose, or damaged shingles. If you spot any issues or areas of concern, call a roofing professional for further examination and repair.
Clean the gutters. Remove leaves and debris from the gutters and downspouts. Check the condition to see if they need to be replaced or reattached, and fill any holes to prevent leaking. Make sure downspouts face away from the foundation for proper draining.
Check the air conditioner. Spring is a good time to have your air conditioner inspected and cleaned by a professional. Check the ductwork and seal any leaks.
Interior maintenance
Clean and inspect window screens. Keep unwanted bugs from entering your home by inspecting your window screens. Repair or replace any damaged screens.
Clear dryer vents. Vacuum lint from the dryer vent.
Switch the ceiling fans. With summer on the horizon, now is the time to change the direction the paddles rotate. During the spring and summer months, the ceiling fans should rotate counterclockwise.
Close the fireplace damper. If you haven't done so already, make sure the damper (the metal flap inside your fireplace) is closed to keep rain, animals, pests, and drafts out of your house.
Monthly tasks
The following tasks should be done monthly to keep your maintenance schedule on task and manageable. Thankfully these chores are simple to handle.
Check HVAC filters. Clean or replace filters as they get dirty. This should be done every one to three months to keep them running efficiently and keep the air in your home cleaner.
Test smoke and carbon monoxide detectors. In addition to changing the batteries every six months (changing them at Daylight Savings time is an excellent way to remember), check to make sure your detectors are working correctly. Also, check your fire extinguishers to make sure they are filled and in working order.
Inspect grout and caulking. Touch up any cracks or voids in tubs and showers to avoid water damage and keep them looking nice.
Check kitchen vent hood filter. Clean or replace as needed. You may want to do this more frequently if you do a lot of cooking.
Visual check around the property. Make it a habit to walk around your property and do a visual check on the foundation, concrete, vents, gutters, windows, and drainpipes. This will allow you to catch any issues before they become big headaches.
Taking care of routine maintenance keeps your home in its best condition and allows your family to remain safe and comfortable. Revisit this list to help schedule your seasonal maintenance tasks.
Discovery Homes builds new homes throughout the Bay Area. Visit us online at DiscoveryHomes.com to learn more about our new home communities, view virtual tours, and more. We look forward to welcoming you home.