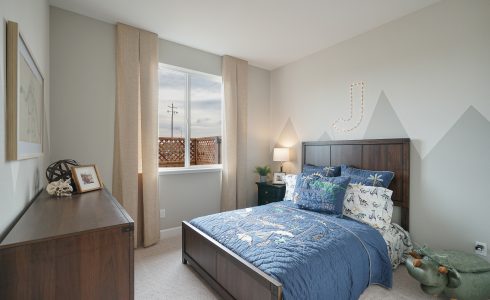 Designing a bedroom for your child is an exciting and rewarding experience, but it can be difficult to keep up with their ever-evolving needs and interests. You want your little one to have a space that's comfortable, functional, and age-appropriate — but also something they won't outgrow too quickly. The key to designing a versatile, practical, and unique bedroom is setting the foundation for long-lasting adaptability. Here are some tips to help you design a bedroom that grows with your child.
Invest in timeless furniture pieces
While the baby and toddler furniture are beyond adorable, you'll be back at the store shopping for new furniture in a blink of an eye. Instead, choose pieces that can grow and adapt with your child. Convertible cribs, for example, can transform into a toddler and full-sized beds, ensuring long-term use. Look for items with adjustable heights, such as desks and bookcases, so that these pieces will last longer than their current stage of life.
Choose versatile, neutral colors for paint
Choosing the perfect color for your child's space can be a daunting task. Hot pink may currently delight them but could soon become passé. When selecting a paint color for their room, opt for neutral tones that promote calm and relaxation. Their bedroom is a multi-functional space but the main purpose is sleeping. Use accessories and decorations to showcase their love for specific colors – or all the colors!
Creative storage solutions
Organization is key in any room, especially for a kid's space where they often sleep, play, and study in the same space. To ensure your child's bedroom remains organized and clutter-free, invest in dressers and shelves that can be repurposed as bookshelves or display units later on. Incorporate cubbies and bench seating near entryways for easy access to shoes, bags, and outdoor clothing, and create a dedicated reading nook or study area using adjustable shelving to keep items off the floor and in their proper spaces.
Go easy on the theme
We love a good themed bedroom but kids change interests quickly as they grow – seemingly overnight at times. One day they're into dinosaurs and the next it's space. This doesn't mean you need to give them a 'boring' room. Use accessories and decorations to incorporate their current passions. These offer a more affordable way to update their room as they grow and discover new interests.
Lighting options for adaptability
Incorporate various types of lighting in your child's room that can be customized for their needs. Ambient lighting provides overall illumination, while task lighting aids in activities like reading and homework. Accent lighting can be used to highlight artwork and create a cozy atmosphere.
Designing a kid-friendly room goes beyond aesthetics; it's about creating a space that supports and nurtures a child's growth and development. By carefully selecting colors, furniture, decor, and lighting, you can create a room that adapts to your child's ever-changing interests and needs.
If you've found your family needs more space, we can help. We strive to build the perfect home that meets the needs of all types of families. Visit us online at DiscoveryHomes.com to learn more about our communities throughout Northern California.