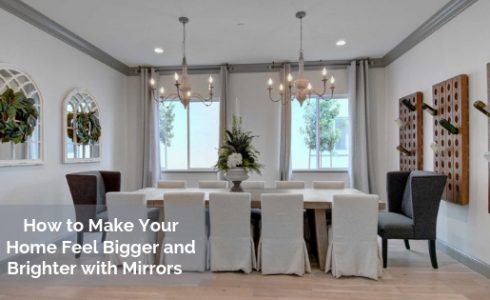 Mirrors are one of the most versatile pieces in our homes. Not only do they allow you to quickly check your appearance, but they can also serve as decorative statement pieces in a home. A well-placed mirror can make any room feel bigger and brighter in an instant. Instead of limiting mirrors to just the bedroom or bathroom, bring them to add some style to your home. Use these tips on how you can use mirrors to make any room look bigger and brighter.
Reflect the light
Mirrors can be used to optimize the natural and artificial light in a given room. A well-placed mirror opposite a window will reflect the light around the room.
Highlight the hallway
Hallways tend to be overlooked and often feel cramped or gloomy. Boost the appearance of any hallway by strategically placing a mirror at the end of the hall to make look more spacious.
Illuminated dining
Mirrors are the perfect complement to chandeliers; they will reflect the light and make the room not only feel bigger, but will elevate the formality of the room as well. If you have a smaller dining room, a larger mirror will make it feel twice its size.
Go large-scale
Oversized mirrors are interior designers favorite design weapon. Propping a large mirror against a wall will magically boost the feeling of space or airiness in a room or you can make a room feel taller by using a floor length mirror. Want to soften the reflective glare? Simply place some furniture in front.
Fake a window
If the space in question doesn't have a window, fake one with mirrors! You can group several small mirrors to replicate a window or find a mirror that's cut and framed to look like a window. The window-mirror will stand as a focal point for the room.
Mirrors are a simple way to transform any room in your new home. Are you ready to find your new home? Visit a Discovery and Seeno Home community in Northern California or online at DiscoveryHomes.com to find your new home in the San Francisco Bay Area!