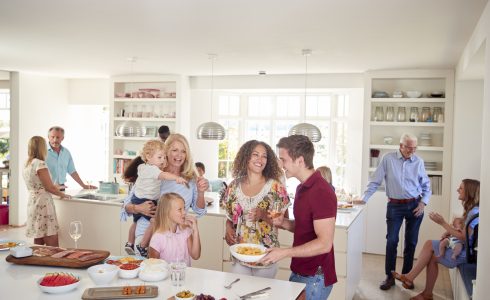 Moving into a new home is an exciting and memorable experience. It marks the start of a new chapter in life and a new place to call home. One of the best ways to celebrate this milestone is by hosting a housewarming party.
A housewarming party is a social gathering where friends, family, and new neighbors are invited to visit your new home and celebrate with you. However, planning a successful housewarming party is not just about the food and drinks. It's about creating an ambiance that makes your guests feel right at home. If you're planning to host a housewarming party, here are some tips on how to make it a memorable one.
Plan and organize early
The first step in hosting a successful housewarming party is to plan ahead and organize things early. Decide on a date, time, and guest list well in advance. It's important to give guests plenty of notice so that they can make arrangements to attend. Consider inviting your new neighbors to give yourself an opportunity to get to know them.
Keep it simple
Housewarming parties tend to be more casual so take advantage by making yours an open house. Set a clear start and end time (1 p.m. to 4 p.m., for example) and let guests know they can drop by whenever works for them. Open houses encourage a steady flow of people in and out so your place doesn't get too crowded. This also keeps any stragglers from overstaying their welcome.
Set the scene
Placing your food around the main party area keeps everyone moving and mingling. Set drinks on the kitchen island, along with a mouthwatering selection of snacks. Don't forget to place some tasty treats on the coffee table or kitchen table too. With snacks at every turn, your guests will be free to roam and enjoy the party without getting stuck in a food frenzy.
Serve up delicious food and drinks
Hosting a housewarming party is all about sharing your new space with family and friends. When it comes to food and drinks, keep things simple while ensuring variety. Consider serving a variety of appetizers or small bites that can be prepared ahead of time. You can also opt for a potluck-style party, where your guests bring a dish to share. For drinks, you can create a self-serve drink station with some wine, beer, water, and mixers.
Get interactive
Creating interactive activities keeps your guests engaged and entertained throughout the party. You can set up indoor or outdoor games for adults or hire a photo booth to capture those housewarming party memories. You could even organize a house tour to show off your space and highlight any unique features.
Enjoy the party
Don't forget to relax and enjoy the party! This is your time to celebrate your new home and connect with loved ones. Don't stress yourself out over the small details. Your guests are there to celebrate with you, not to judge your home or party-planning skills. So, take a deep breath and enjoy your special day.
Hosting a housewarming party is a fun way to celebrate your new home and share the happiness with your family and friends. By following these tips and tricks, you can throw an unforgettable housewarming party that will be remembered for years to come.
Ready to start the next chapter in a new home? Discovery Homes can help. We build new homes throughout the Bay Area that are perfect for families of all sizes. Visit us online at DiscoveryHomes.com to learn more about our new home communities, view virtual tours, and more.