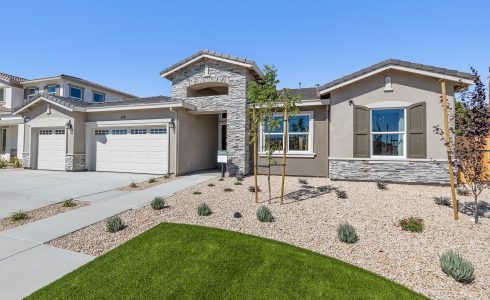 Are you thinking about buying a home? If so, you're in the right place. Buying a home can be exciting and overwhelming at the same time. The process of buying a home can seem daunting, especially if it's your first time doing so. That's why we created this step-by-step guide to help walk you through buying a home from beginning to end and a general estimate on how long each step takes.
Step 1: Homebuying planning
Average time: 6+ months in advance
The first step of the home buying process is making sure that you are financially prepared. This means reviewing your finances and making sure you're ready for this major purchase. Starting this process early gives you enough time to save for the down payment, improve your credit score, determine what you want in a home, and research the housing market and the types of homes available.
Step 2: Get preapproved
Average time: 2 days to 2 weeks
Once you're financially ready, it's time to get pre-approved for a mortgage loan. A pre-approval letter from your lender will show potential sellers that you are serious about buying their property, which will make it easier to negotiate once you find the right property. It also helps you understand how much house you can afford while giving lenders an idea of what kind of loan they can offer you. It usually takes a few business days to get preapproved but it's worth shopping around, including with any preferred lenders if you're considering new construction, to find the best mortgage package for you.
Step 3: Find a Real Estate Agent
Average time: 1-2 weeks
Real estate agents are a valuable asset. They're often knowledgeable about local markets and will be able to help you find properties that meet your needs. Your agent should also be able to provide information about neighborhoods, schools, taxes, and other factors important when choosing where to live. You can easily find a real estate agent but there's no need to rush this step. Take your time and interview different agents (here are some questions you can ask) to find a good agent you'll love.
Step 4: Start home shopping
Average time: 1 week to 3+ months
Admittedly this is the fun part. With your must have list in hand, you and your agent will tour potential homes. There's no set timeline on how long it'll take to find your new home. Depending on your market, you may see several homes and put in an offer that same day or you may go months waiting for the right home to come onto the market. It's easy to become discouraged at different points during the process, especially if you've been outbid several times. But stay focused on your goal of finding your new home.
Step 5: Make an offer
Average time: 1 day to 2 weeks
Once you have found the perfect property for your needs, then it's time to make an offer! Your real estate agent will work with both parties (buyer and seller) in order to negotiate an agreement that works best for both sides. Response times will vary; sometimes you may hear back within hours and sometime it can take longer as seller's review several offers. If you're sent a counteroffer, negotiations may take additional time. The property will go into contract within a few days of an accepted offer.
Step 6: Complete due diligence
Average time: 3 days to 3 weeks
Once you go into contract on the home, you'll enter the due diligence phase. During this time, you'll review the home to make sure everything is on the up and up with an inspection and appraisal. A certified home inspector will conduct a thorough assessment of the home and identify potential issues the buyer may face. You can take the results of inspection to either renegotiate the sales price or ask the seller to make repairs as part of the sale.
Around the same time, your lender will schedule an appraisal to determine the home's value. Home appraisals are unbiased evaluations of a home's market value. Lenders use appraisals to make sure they're not loaning more than the home is worth. If the home value comes in around your sale price or higher, you're good to go. If it comes in lower, you may need to renegotiate the purchase agreement or put down a larger down payment.
Step 7: Get your loan approved
Average time: 3 days to 3 weeks
While the due diligence process is ongoing, your mortgage lender may begin the loan approval and underwriting process. This is where being preapproved comes in handy since you've already provided all of the financial information your lender will need to determine your loan qualification. The next step will be the underwriting process where your finances and the appraisal results will go through another in-depth review to verify the information.
Step 8: Close on your new home
Average time: 1 day to 1 week
After passing all due diligence processes mentioned above then we move onto closing day! At this point both the buyer and seller sign off on documents needed in order complete purchase and transfer ownership. Once you hand over the funds for the down payment and closing costs (if necessary), you'll receive the keys and officially be a homeowner.
Buying a home starts way before you start touring homes. The homebuying process takes time but once you understand the general timeline you can better prepare and make informed decisions every step of the way.
When you're ready to start your journey to your new home, visit us at DiscoveryHomes.com to learn more about our new home communities throughout Northern California! View virtual tours, floorplans, and more online. We look forward to helping you find your home.