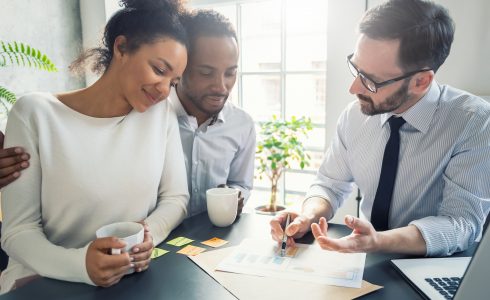 You've been pre-approved for a mortgage and had your offer accepted on your dream home. The home passed inspection and your interest rate has been locked in as you begin the escrow and closing process. You're almost a homeowner but this time before signing the final contracts and receiving your keys is a critical period.
During this time, your lender will be reviewing your financial paperwork to verify your credit and may request additional information before finalizing the loan application. That means keeping your finances steady because any major changes during this time can delay your closing.
Here are some things you should avoid doing before closing on your new home.
Ignore your lender
Your lender is working hard preparing the paperwork to finalize your mortgage. They will reach out fairly quickly if they need additional information so it's in your best interest to respond quickly. Any delays in responding or providing the requested information will delay the process.
Quit or switch jobs
Your history of steady employment and income are two factors that are reviewed during the loan application process. Lenders want to know that you're capable of paying the loan. Changing jobs while you're buying a home, even if it's for a job with a higher salary, can delay the process. If a new opportunity arises that can't wait until after you've closed, contact your lender and let them know.
Opening or closing lines of credit
Hold off on opening new lines of credit, like for a new car or opening a store card, that require a credit check. Likewise, you don't want to close unused credit lines during this time either. While it's a good thing under regular circumstances, it can be a liability during closing.
Opening or closing a line of credit can increase your debt-to-income ratio, which is a red flag for your lender. Your mortgage approval is based on meeting certain criteria and any changes to your credit report may change your status. It's best to save both of these actions for after you've closed on your home.
Change bank accounts
Lenders request bank statements when you apply for a loan. They do this to verify you have the money needed for the down payment and closing costs. They also use your statements to see where your money is coming from and has been in your account for a certain amount of time. If you change banks during closing, you will have to go through this process again. It can take about two months for your account to season. Your lender may require new bank statements to review and may even require an explanation for the change in financial institutions.
Deposit or transfer large amounts of money
Avoid making unusual deposits or transfers of large amounts of money. Deposits outside of normal employment income must be documented to show they're from legitimate sources. If you receive cash payments from family or withdraw from an eligible retirement account, like an IRA or 401k, to help with your down payment, let your lender know. They will give you instructions on how to proceed.
Transferring or withdrawing large amounts of money may decrease the cash reserves your pre-approval was based on, which can jeopardize your financing.
Pay bills late
The occasional late bill happens but try your best to stay on top of bill payments during closing. Missed payments can affect your credit score and cause you to lose your financing.
The journey to your new home has been a long one. It's understandable to be excited but being patient will help you in the long run. When you're ready for a new home, Discovery Homes is here to help. Visit us online at DiscoveryHomes.com to learn more about our new home communities in the Bay Area.