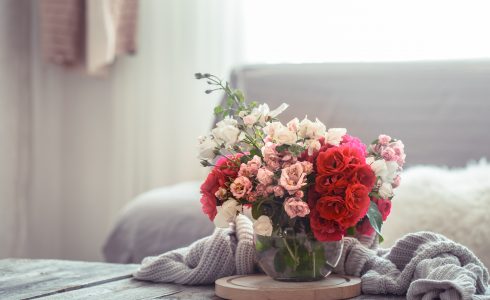 Valentine's Day isn't usually a holiday you'd think to decorate for like Halloween or Christmas but it's the perfect opportunity to add pops of color to create a romantic vibe to your home. Instead of the traditional red and pink hearts, we have a few modern decorating ideas that will add a little love to your home that can be used long after Valentine's Day.
Wall art
Graphic art prints are a relatively inexpensive and fun way to refresh your home. You can opt for loving phrases or love-adjacent themes like XOs. There are plenty of Valentine's themed prints that can be purchased and downloaded from places like Etsy that can be stand-alone pieces or go on a gallery wall. After the holiday, they can be stored for next year!
Floral arrangements
Nothing says Valentine's Day like a beautiful bouquet of flowers. A few simple floral arrangements around the house can make a lovely statement. Floral arrangements can add a pop of color to a kitchen counter, living room, or as a centerpiece for dinner. Skip the expensive roses and choose a mixed bouquet of flowers like tulips, chrysanthemums, carnations, peonies, and more to make a seasonal look. Complete the look with a metallic or cut-crystal vase.
Throw pillows and blankets
Every designer's not-so-secret weapon to easily updating your décor is to use pillows and blankets. They're a great inexpensive way to decorate your home without breaking the bank. Place a few love-themed pillows and blankets in your living room to add a punch of color without overdoing it. If you love decorating for every holiday, consider making or buying pillow covers. Not only do they come in lots of colors and patterns for every conceivable holiday, but they also store easily, and are simple to make if you're the crafty type!
These simple decorating ideas will fill your home with festive Valentine's decorations without being overwhelmed by red and pink hearts.