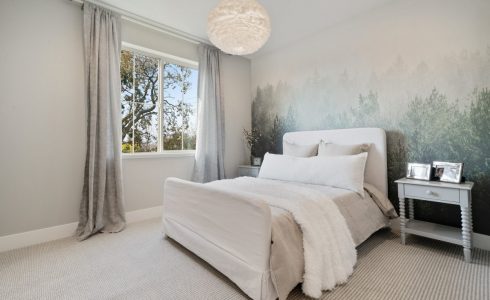 Accent walls' popularity seems to ebb and flow over time but they're experiencing a resurgence as of late.
An accent wall, also called a feature wall, is a single wall that has a different color, shade, design, or material from the surrounding walls. They're an easy way to add visual interest or a pop of color without committing to painting a full room. They also help define your space, which can be helpful in an open-concept room and can highlight (or hide) unique features in your home.
That's why they are interior decorators' favorite tool. Creating an accent wall is pretty but there's more to it than just slapping some paint on a wall. Before you head out to pick paint samples and supplies, here's everything you need to know about designing accent walls.
Choose the right wall
When it comes to accent walls, not every wall is created equal! Choosing the right wall is the most important step. In general, select a wall that has an architectural feature, like a fireplace, nook, or built-in shelving. If your room doesn't have a natural focal point, a safe pick is a solid wall that doesn't have any doors or windows. Be careful if you choose a wall with windows; dark accent colors around windows can potentially overwhelm the room thanks to the bright light.
Choose only one wall
Accent walls are meant to be a decorative highlight, so there should only be one accent wall in each room.
Consider the other wall colors
Be sure to consider the rest of the room even though you're only painting one wall. You want your accent wall to complement the space, not clash. If you choose a bold color for your accent wall, opt for softer neutrals in a similar tone to balance the intensity.
Be inspired by your room
Your accent color should complement the color palette in your room so it feels like one cohesive space. Think about the décor, artwork, and furniture that is in the room and pick a complementary color. This is an easy way to maintain a harmonious and balanced look in the space.
Think beyond the can
Paint is a conventional way to create an accent wall but it doesn't stop there. Wallpaper, textured wall treatments, and wood paneling are beautiful alternatives to paint. If this sounds like a big undertaking, there are good peel-and-stick options available to try.
There are a lot of ways to create a standout space in your home. Accent walls are low-pressure ways to make a big impact. These tips will help you feel confident in creating an accent wall that complements a room without overwhelming it.
Ready for a new completely new space? Visit us at DiscoveryHomes.com to learn more about our new home communities throughout the Bay Area. We're excited to welcome you home!