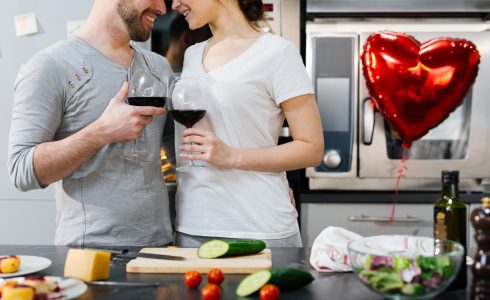 Valentine's Day is a special time of year when we celebrate the love in our lives. Whether you're single, married, or just spending time with your friends and family, there are many ways to enjoy this special day. Here are five unique and special ways to celebrate Valentine's Day at home this year.
An evening full of board games
A fun way to spend the night with your loved one is by coming up with a list of two-player board games or card games that you can play together. You can include some classic favorites from your childhood or get creative by creating your own game. This will not only be an entertaining way to pass the time but also an opportunity for you and your partner to bond over something enjoyable.
Prepare a romantic dinner
Make dinner for two as special as possible by preparing a romantic meal for you and your partner. Try cooking something new or challenging that you both have never had before. Not only will it be an exciting experience, but it also gives you both something to look forward to on Valentine's Day. If cooking isn't your thing, consider ordering take-out from your favorite restaurant or setting up a romantic indoor picnic with a selection of finger foods and snacks to enjoy while sipping sparkling wine or other fancy drinks.
Take a virtual class together
Who said learning can't be fun? Find an interesting online class that both of you can take together such as painting art pieces, cooking, or virtual wine tasting. Some classes may include the materials or ingredients you'll be using or you can shop together before the session. Not only will it be a great way to learn something new together, but it also offers an opportunity for quality time without having to leave home.
Host a mini-movie screening
Create a mini cinema experience right in your living room. It doesn't have to be anything fancy – pick out some of your favorite movies, grab some of your favorite blankets, popcorn, and snacks, then cuddle up on the couch while watching one of your favorite movies together. It's like going out on a date without actually going anywhere!
Creating an at-home spa retreat
Take some time out from all the hustle and bustle of life by creating an at-home spa retreat just for two. Set up soft lighting throughout the house and prepare warm bubble baths with essential oils, scented candles, and soothing music. Pamper each other with soothing treatments like massages, foot baths, or face masks. Doing these activities together allows you both to relax and reconnect on this special day. 
There are so many creative ways that couples can enjoy their Valentine's Day celebrations without leaving their home. Make sure to take advantage of this opportunity and make memories that will last forever.
If you're looking for a new home to enjoy future holidays in, visit us online at DiscoveryHomes.com to learn more about our new home communities throughout the Bay Area. We're looking forward to welcoming you home.