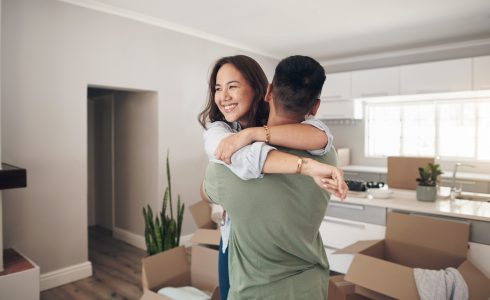 Moving in with your significant other is a big step in any relationship. It's often the culmination of a lot of hard work and dedication, and it marks a shift in the way you and your partner live your lives. However, moving in together also means that it's time to start combining your stuff, which can be a bit stressful. After all, you're bringing together your individual styles, tastes, and possessions into one shared living space.
So if you're moving in together with your significant other, keep reading for our guide to moving in together and combining stuff in a way that's harmonious and stress-free.
Communication is key
Before you move in together, it's essential to have open and honest communication with your partner about your expectations and goals. Talk about what you want your home to look like, how you want to manage finances, and how you plan to divide household chores. The more you communicate, the smoother the transition will be. Remember, both parties should feel heard and validated.
Take inventory
Before you start packing up, it's a good idea to take inventory of what you own. Make a list of all the items you own and decide which items you want to keep and which you would like to donate or sell. This will give you a better idea of how much space you will need and help prevent unnecessary clutter in your new home. You can also create a shared list on your phone or computer to keep track of everything.
Discuss what pieces of furniture or decor you each want to keep and what you're willing to let go of. Make a list of the essentials you'll need for your new place, and create a plan for who will bring what. Establish these parameters early on, and it'll be easier to create a cohesive space.
It's important to note that you should approach this process with respect and patience. There may be items that have sentimental value to your significant other, and it's important to acknowledge that and find a way to incorporate those items into your shared space.
Combine your styles
Now that you've narrowed down the things you'll be bringing with you, it's time to start thinking about your individual styles. You and your significant other may have different tastes, so it's important to find a way to blend your styles together in a way that feels cohesive and comfortable for both of you.
Look for common themes or colors that you both are drawn to and use those as a starting point for your design choices. There may be some items that can be easily incorporated into your space, while others may require a bit more thought and creativity.
Don't worry if you can't agree on everything right away – combining your styles is a process that will take time, patience, and compromise. Ultimately, you want your home to reflect both of your personalities, so don't be afraid to mix and match until you find the right balance.
Organize together
Now that you've narrowed down your possessions and blended your styles together, it's time to get organized. Proper organization is essential for any shared living space, and it's important to make sure everything has a designated place.
Invest in storage solutions that work for both of you, such as shelving, baskets, and cabinets. Make sure to label things clearly so that each person knows where everything goes and can easily find what they need.
Another way to get organized is to create routines around cleaning and tidying up your space. This can help to reduce stress and arguments over clutter and helps you to feel more comfortable and at home in your shared living space.
Enjoy your space
Now that you've combined your stuff and created a shared living space that reflects both of your styles, it's time to enjoy your space. Remember, this is a new chapter in your relationship, and it's important to take time to appreciate and celebrate this milestone. Whether you're cooking dinners together, hosting friends, or just relaxing on the couch, it's important to take time to enjoy your space and each other's company.
Change takes time
Adjusting to living together takes time. It's common to feel a little uneasy at first, especially if one person owns the home. Be patient with one another, celebrate small successes, and work toward resolving any issues that may arise as you adapt. Moving in together is a big step, but with a little effort, it can be an incredibly positive experience for both you and your partner.
Moving in together and combining your stuff can be stressful, but it's also a wonderful opportunity to create a shared space that reflects both of your styles and personalities. Moving in together is a big step in your relationship, and it's important to approach it with respect, patience, and compromise. With a little effort and creativity, you can create a home that you both love and feel comfortable in for years to come.
New homes by Discovery Homes
Are you moving in together with your partner and need more space? Find your new home with us. Discovery Homes builds vibrant new home communities throughout the Bay Area. Visit us online at DiscoveryHomes.com to learn more about our communities, available quick move-in homes, and more.