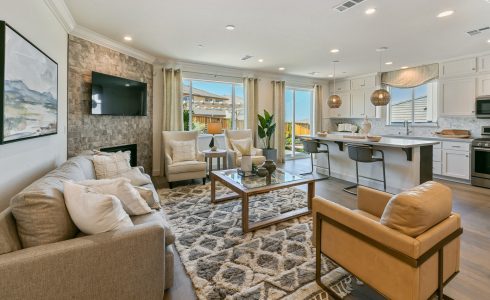 Buying your first home is an exciting milestone. Gone are the decorating restrictions common with rentals and now your decorating possibilities are endless. It's easy to feel overwhelmed trying to figure out how to personalize your new space – especially if you're moving from a small apartment into a much larger home. We've put together a few tips so you can confidently furnish your first home.
Review what you currently have
As exciting as it is to replace everything and start from scratch, it's not usually a realistic option. Take a look through your current belongings and decide what you can keep and what should be replaced. Start with larger, staple pieces and then move on to the smaller items like accessories. Assess the condition, usefulness, and whether it fits into your personal style. Decide which items you'll keep or donate, sell, or toss. Once you've gone through this process, go back over the items you'll keep and decide where you'll place them in your new home. If you can't quite figure out where it should go, you may want to consider letting it go.
Prioritize your purchases
After buying a new home, you may have a limited budget available for buying new furniture. But don't worry; with a bit of strategy and planning, you can furnish your home without going into debt. Instead of trying to fully decorate each room, prioritize your purchases, starting with the pieces you need most. You'll want to make sure you have the essentials: beds, a couch, dining table, and dressers, and round out the remaining pieces.
Measure everything
Before you start buying anything, measure your space to make sure you have enough room for your chosen pieces (you should also measure the doorways and hallway and note the location of outlets and vents). That will allow you to know whether your chosen piece will fit before you buy. You'll also want to account for the architecture of the room. If your living room has vaulted ceilings, putting a low-profile couch and coffee table will make the space feel cavernous.
Resist the urge to match
Your home should be a reflection of your personal style and not a retail showroom or catalog. Furniture sets make it easy to decorate but are often bland and your style is anything but that. Instead of buying the full set, choose your favorite pieces and supplement them with pieces sourced from other places. Mixing and matching allows your personal style and flair to shine through. And if your style evolves over time, chances are good you won't have to replace everything!
Don't buy everything at once
Don't feel pressured to have everything completely done on move-in day. Give yourself time to live in your new home before making big decorating decisions. Not only will this give you time to save money for new furniture, but you'll have a better understanding of how you actually use a particular space.
Is this the year you buy your first (or next) home? We have several new home communities throughout the Bay Area with homes available now. Visit us online at DiscoveryHomes.com to learn more about our communities, view floorplans, and more. We look forward to helping you find your new home.