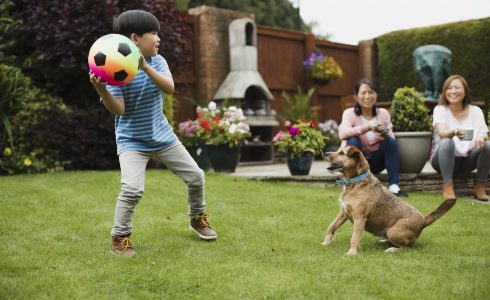 For many people, their pets are a part of their family. While your home may feel complete with your furry family members, they can make selling it a bit more complicated. Some buyers can be turned off if they see evidence of pets in the home.
If you're a pet parent, here are our essential tips for successfully showing and selling your home.
Assess and repair your home
As soon as you decide to sell, carefully look over your home and make a list of any pet-related repairs you need to make. Inside, you'll want to repair or replace anything that's been chewed, scratched, or clawed. On the outside, remove pet waste and fix any signs of digging in the yard, damaged fencing, and torn window screens. You may also want to consider replacing a dog or cat door.
Deep clean and deodorize
Pet odors can be problematic so deep cleaning and deodorizing is a must. While you may not notice a scent, unpleasant smells like pet odor are usually the first things prospective buyers notice when stepping into a home. This can make or break a sale.
Remember, pet odors can seep into fabrics and other soft materials so deep cleaning is important. Consider calling in a professional cleaning service and carpet cleaners to clean pet stains, hair, and remove odors in your house.
Keep your pets' belongings as clean as possible. Clean cages, fish tanks, bedding, and any other area your pet likes to hang out.
Remove pet objects
Before taking listing photos or showings, you'll want to remove any signs that pets live in your home. Since buyers will look in every nook and cranny, simply hiding these items away in the closet doesn't always work. Move crates, pet beds, cages, and litter boxes out of sight. Put away empty food bowls and pack away toys and accessories.
Relocate or manage pets during showings
When it comes time for showings or open houses, you'll want to remove your pet from your home if at all possible (within reason – you won't be able to take your fish with you!). Even the best-behaved pet can get a little defensive when strangers are walking around their turf. Plus, you never know how other people may react to your pet. If your pet must stay at home, place them in their crate and carrier and leave a note letting them know their location and not to disturb them. Try to put them somewhere other than the kitchen, bedrooms, living room, or bathroom.
With some planning and preparation, you can make sure you can sell your pet-friendly home at its maximum value.
Ready to find your next home? Visit us at DiscoveryHomes.com to learn about our new home communities throughout Northern California, view floorplans, pricing, and schedule a visit! We look forward to helping you find your new home.