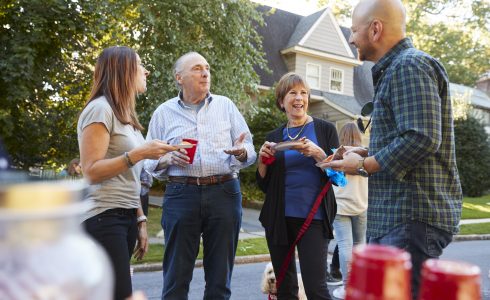 Settling into your new neighborhood can take just as long as it does to unpack and get settled in your new home. You probably had an idea of what to expect before moving in, but you may still discover some hidden gems now that you're a resident.
One of the best ways to learn about your new surroundings is to get out there and explore. Here are some ways you can explore your new neighborhood and feel acclimated faster.
Walk around
There's no better way to discover your new neighborhood than to get out and walk around. Walking is the best way to get acquainted with your neighborhood. You'll be surprised how different your community is on foot than what you've seen from the car! Walking allows you to spot more things you may have otherwise missed and uncover delightful pathways or parks that may be inaccessible by car.
Talk to your neighbors
Your neighbors are another great resource for information. Who knows your community better than the people who live there? Meeting your neighbors gives you the opportunity to develop new connections. It can be as simple as saying hello while you're on your discovery walks (another bonus of neighborhood strolls) or walking over to introduce yourself. Your neighbors can share insights on your new neighborhood, share some hidden gems, make recommendations for things to do or places to go, and offer tips on how to navigate your new area.
Get involved in community events
Getting involved in community events, whether volunteering joining a club or meetup, is another great way to meet like-minded people while learning more about your new community. It helps expose you to more aspects of your neighborhood and makes you feel invested. Most cities and towns have community activities and classes available for residents. You can also check directly with local organizations or city government for opportunities, or use social networks like Facebook, Meetup, or Nextdoor to find local clubs and meetups.
Be a tourist
Think like a tourist and make it a point to check out everything your new community has to offer. You don't have to live in a touristy area; learn about your new city by checking out the local restaurants, shops, and stores, explore park areas, visit local attractions, whatever your city has to offer.
Eventually, you'll find that you're no longer the new kid on the block and have settled in your new neighborhood. You'll develop a sense of connection and investment if you dedicate some time to truly explore your new surroundings.
When you're ready to call a new neighborhood home, visit us at DiscoveryHomes.com. There you can learn about our new home communities throughout Northern California, floorplans, pricing, and schedule a visit! We look forward to helping you find your home.