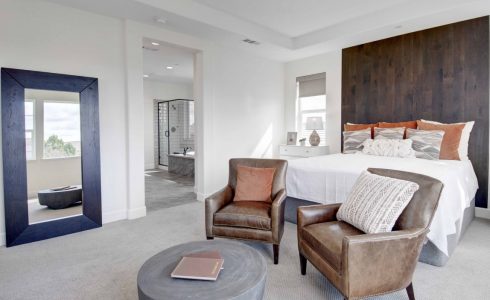 There's nothing more luxurious than a master bedroom sitting area. It's the perfect space to relax after a long day within the confines of your bedroom without having to sit in bed. But the best thing? You can create a peaceful sitting area even if your bedroom wasn't designed with a designated sitting area. Here's how you can design your own dreamy master bedroom sitting area.
Designate a space
If your bedroom doesn't already have a designated sitting area, pick an area that will allow you enough room for at least a chair or ottoman. Take a look at your bedroom and see if you can identify areas that aren't being used effectively. Sometimes all you need to do is rearrange some furniture to create the needed space. Some popular places for a sitting area include the foot of the bed, a corner in the room, or by the windows.
Know your Why
Before buying new furniture, figure out how you want to use this space. Do you want to use it as another place to sit that's not the bed? Will it be used for reading or working? Will it be for decoration only? Do you just need a space to sit and put your shoes on? Knowing how you plan to use the space will help you find the right type of furniture.
Choose comfortable seating options
The main draw of sitting areas is the cozy comforts they provide, so you want to find seating options that not only fit your space but are also comfortable. Seating options are endless: armchairs, benches, chaises, and even loveseats. Choose pieces that work with the space so you still have plenty of space to walk around.
Include proper lighting
Sitting areas, especially if used for reading, should have its own lighting. A mix of task and ambient lighting will work. Not only does this give your sitting area a soothing and comforting appearance, but it'll also allow you to use the area without needing the overhead lights on.
Decorate with comfort
Accessorize your sitting area with cozy comforts like soft pillows, cozy throw blankets, and even an ottoman to rest your feet on. These small details will make your sitting area feel inviting and a joy to use.
Add a small table
Include a small table or surface so you can keep your necessities, like a book or your drink, close at hand so you don't have to keep getting up.
If you've been daydreaming about a luxurious sitting area in your bedroom, these tips can help make them a reality. Many of our homes have space for you to create your own. When you're ready to find your dream new home, visit us online at DiscoveryHomes.com to learn more about our Northern California communities.