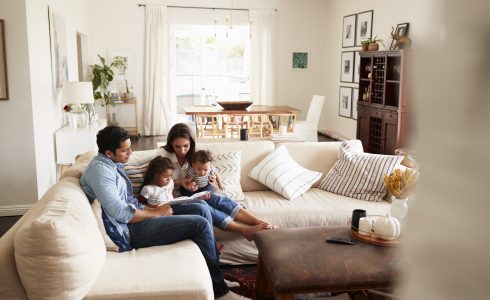 When you first moved into your home, it was an exciting time. You loved every corner of it and couldn't wait to make new memories. But, over time, your love for your home may have dwindled. Perhaps you're feeling bored with your current decor, the layout is no longer convenient for your lifestyle, or you simply need a change. Whatever your reasons are, with a little bit of creativity and effort, you can fall back in love with your home all over again.
Declutter and organize
One of the main reasons we start to dislike our homes is clutter. Having too much stuff around can make a space feel cramped and chaotic. To combat this, start by decluttering your home, then organize each area as you go. Go through each room and get rid of anything you no longer need, or store it away neatly out of sight. This will give you a fresh start and help you appreciate the space you have.
Rearrange your furniture
Sometimes all it takes to rekindle the love for your home is a new perspective. You don't need to buy new furniture to give your space a new look. Try rearranging the furniture in your living room or bedroom and see how this changes the feel of the room. You can even consider swapping furniture between rooms to give your home a fresh look. Maybe you'll even discover a new layout that makes the room feel more functional.
Incorporate some plants
Adding some greenery to your space is a simple way to make it feel fresh and inviting. Plants have numerous benefits, from purifying the air to reducing stress levels. They also add color and texture to any room. Invest in some low-maintenance houseplants that suit your decor style, and breathe some fresh air into your home.
Change your lighting
Changing the lighting in your home can transform the space dramatically. It's essential for creating a warm and welcoming atmosphere in your home. Consider switching out your light fixtures, adding more lamps, or installing dimmer switches to create the perfect ambiance for any occasion.
Redecorate your walls
Another way to give your home a fresh look is by changing up your walls. You could paint them a new color, add a bold accent wall, or choose to use wallpaper instead. If you don't want to commit to a permanent change, consider adding temporary wallpaper, which is easy to remove.
Update your space with small accents
You don't need to do a complete overhaul of your home to make it feel fresh. Sometimes, small updates can make a big impact. Swap out your shower curtain, update your curtains, or add some new towels to your bathroom. These small touches can give your home a new feel without breaking the bank.
Introduce some color
If your home is feeling a bit drab, a fresh coat of paint is an easy fix. If painting isn't an option, you can add color in other ways. Brightly colored throw pillows, rugs, or artwork can make a big impact. Choose colors that make you feel happy and inspired and create a vibrant and inviting space.
Invest in your outdoor space
Don't forget about your outdoor space. Whether you have a backyard, patio, or balcony, adding some comfortable furniture, string lights, or outdoor decor can turn it into another room in your home. This is a perfect spot to enjoy the warmer weather or entertain guests.
Sometimes we can fall out of love with our homes simply because they've become too familiar. However, with a little bit of effort and creativity, you can fall back in love with your home and appreciate the space you have. The little things can make a big difference, so don't be afraid to try something new and create a space that you'll love coming home to every day.
Fall in love with a new Discovery home
We hope you'll consider Discovery Homes when you're ready to buy a new home. We have several new home communities in desirable neighborhoods throughout the Bay Area. Visit us online at DiscoveryHomes.com to learn more about our new home communities, available homes, and schedule a visit today!