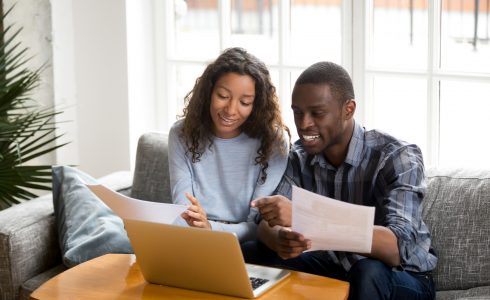 Buying a home is both exciting and stressful, especially if you're a first-time homebuyer. There's a lot of room for error when it comes to buying a house so it's understandable to have some anxiety about this large investment!
Thankfully, a lot of these missteps are avoidable if you know what to look for. Here are a few common homebuyer mistakes to avoid when searching for your new home.
Looking for a home before getting preapproved
Getting preapproved for a mortgage is helpful in a few ways. First, it assesses your financial ability to manage this purchase. It also shows buyers how much they can potentially afford (more on this in a moment). Finally, it proves that you're a serious buyer and not just a looky-loo.
If you start looking at homes before you're preapproved, you run the risk of falling in love with a home that is out of your price range.
Draining your savings
Draining your savings for a down payment and closing costs is a common mistake. Work on saving enough for a down payment, closing costs (lenders can give you an estimate), moving expenses, and any repairs. Also, depending on the type of mortgage you have, you may be able to purchase a home with a smaller down payment.
Overlooking first-time homebuyer programs
Being a first-time homebuyer has its benefits, mainly the myriad of programs dedicated to helping you afford a home. Many people don't know these programs exist or assume they don't qualify! Many states and cities maintain first-time homebuyer programs to provide assistance in buying a home. Some programs offer low down payment options, making homebuying more achievable.
Check with your state and city to see which programs are available.
Making big purchases before closing
You've found your home and had your offer accepted. Congratulations! Though you've reached this milestone, don't get too excited and start buying new things. Avoid adding new debt, like buying a new car until you've completed closing.
The weeks between having an offer accepted and signing a contract and getting the keys is a crucial period. This is when your loans undergo a process called underwriting, ask your lender ahead of time about more details of this process and what it entails.
Holding out for the 'perfect house'
Expecting to find a home that meets every requirement and is in your budget can limit your options. The hard truth is there's no such thing as a perfect home; even if you build one from the ground up. Holding out for the 'perfect home' may cause you to miss out on a great home that meets most of your needs.
Before you begin touring homes, put together a list of your wants and needs so you can focus on finding a home that fits what you really want. Keep an open mind and if you find a great home early in your search, don't hesitate to put in an offer!
There's a lot of factors to consider when buying a home. But by doing your due diligence to research and understand the buying process, you can feel confident in your journey to finding the right home you'll be happy with for years to come.
When you're ready to start your journey to your new home, visit us at DiscoveryHomes.com. There you can learn about our new home communities throughout Northern California, floorplans, pricing, and schedule a visit! We look forward to helping you find your home.