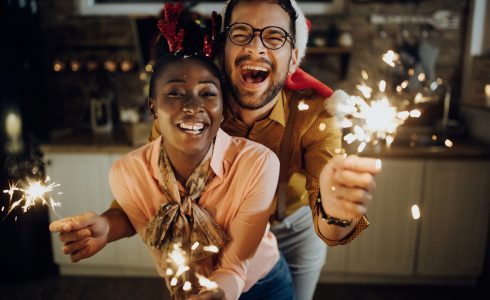 Is staying in on New Year's Eve your cup of tea? That's perfectly understandable. Going out can be overpriced and overcrowded. But just because you're not hitting the town doesn't mean you can't have a good time. In fact, there are plenty of fun ways to celebrate New Year's Eve at home. Here's a how-to guide to help make your night one to remember.
Have a Movie Marathon
What better way to celebrate the new year than by cozying up with some popcorn and your favorite movies? Make a list of your top 10 favorite films of all time and spend the day staring at the big screen. Don't forget the snacks!
Put on a Talent Show
New Year's Eve is the perfect time to showcase your hidden talents. Dig out your juggling balls, dust off your old guitar, and put on a show for your family and friends. You might be surprised at how talented you really are!
Make a "Lucky" Dinner
Looking to start off 2023 with some extra luck? Have your last meal of this year be full of "lucky" foods. Consider enjoying whole fish, rice, noodles, pork, oranges and honey, lentils, sauerkraut, dumplings, or southern classics like collard greens, cornbread, and black-eyed peas for prosperity in the new year. And for true luck to be with you all of 2023, eat 12 grapes at once or a donut (symbolizing the circle of life) at the stroke of midnight.
Make Some New Year's Resolutions
No New Year's celebration would be complete without making some resolutions for the coming year. Brainstorm a list of things you'd like to accomplish in the next 12 months and write them down. Then, make a plan for how you're going to achieve them. Just remember, resolutions are meant to be broken, so don't be too hard on yourself if you don't stick to them perfectly. After all, that's what next year is for!
Have a Dance Party
Move those chairs out of the way and turn up the volume! A dance party is a perfect way to get everyone in on the New Year's Eve fun. Put on your favorite tunes and let loose!
Play Some Games
Bring out all of those board games collecting dust on your shelves and put them to good use! Gather up your family and friends for an evening of fun and games. And if you're feeling really competitive, you can always add a prize for the winner!
Enjoy a Luxurious Staycation
Turn your home into a luxurious hotel for the night! Have everyone dress up in their fanciest clothes and treat yourselves to room service (i.e., order takeout from your favorite restaurant). Then, spend the evening relaxing in style. You might even want to book yourselves a couples' massage for an extra-special touch!
Toast to the New Year
What's a celebration without some bubbly? Get dressed up in your finest evening wear (yes, even if you're just staying home) and pour yourselves some champagne or sparkling cider. Raise a toast to good times ahead and enjoy each other's company as you ring in the new year!
Celebrating New Year's Eve at home can be just as fun as going out on the town—and might even be more enjoyable. This New Year's Eve, celebrate at home with one (or more!) of these fun ideas. From movie marathons to dance parties, there are plenty of ways to have a good time without leaving your home.
Ready to welcome a new year in a brand-new home? We can help. Discovery Homes builds new homes in desirable communities throughout the San Francisco Bay Area. Visit us at DiscoveryHomes.com to learn more about our new home communities today.