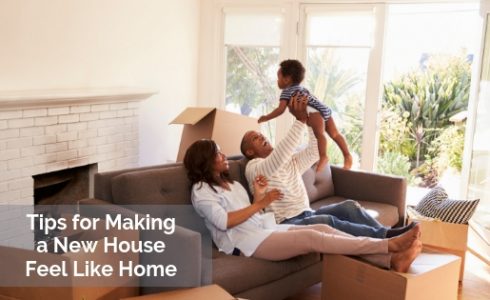 Finding a new home in Northern California can be daunting. But at the end of the journey, you're rewarded with a new house. While you're excited to finally move in, you may still feel a little weird in an unfamiliar place. Sometimes it takes a little time to really make a new house feel like your home, even after the moving boxes have all been unpacked and furniture in place.
Here are some helpful tips for making your new house feel more like home:
Set up key rooms
Many people unpack and set up the communal areas first on moving day, leaving personal rooms for later. The idea of sleeping in a room filled with boxes is unappealing. Instead, make time to unpack and set up the following key rooms on the first day: the bedrooms, bathrooms, and one other priority room.
Moving is tough on everyone, especially for kids. Setting up the bedrooms gives everyone a familiar place to retreat to after a long day. It also eases the transition into a new place (which is helpful for younger children). If you're tight on time, a good shortcut is to make the beds and fill the closets with clothes. The entire family will appreciate not having to dig through boxes to find something to wear the next day!
Bathrooms are easy targets to get set up during the course of moving day. Having a fully stocked bathroom will be appreciated during a crazy moving day.
If time allows, set up one other room that will instantly make you feel at home, whether it's the kitchen, family room, or some other room in the home.
Recreate familiar routines and experiences
Everything doesn't have to change just because the space may be different. Try your best to recreate any familiar routines or habits, like placing the drop zone for keys in the same general area like the previous home. Or if there are specific sounds that make your home yours, fill your new home with the same.
Host a house warming party
There's nothing like being surrounded by friends and family to make any place feel like home. Hosting a house warming party is a great way to start creating memories in your new space and allows you to fill your home with the warmth and happiness needed to turn your house into your home.
Give it time
It goes without saying but sometimes the best thing you can do is just give yourself and your new house time to get settled. The more time you spend there, the more it will become to feel like home. Soon you'll figure out all the quirks in your home, have a new favorite spot, and discover new things to love about your home.
Over time, you'll fill your new home with memories, family, and other new things and it will truly be home. When you're ready to make the move into a new home in Northern California, visit us online at DiscoveyHomes.com to view our new home communities throughout the Bay Area and Nevada.