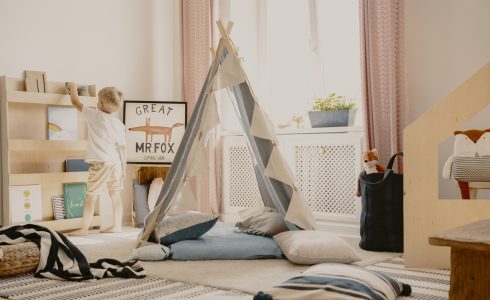 Playrooms are a place for fun, imagination, and creativity. It's where kids can play and stretch their imaginations. Even though these spaces are meant for fun, they should still be functional. Here are our top tips for designing your kids' playroom that puts the fun in functional.
Involve your kids
The playroom will be your kids' domain so involve them in the design process. Discuss what type of activities they like to do and how they'd like to use the playroom. While you won't be able to create a space filled with every toy available, you can help them narrow it down to their favorite activities and let that guide the design.
If you're wary about how a room designed by your kids would look like, you don't have to give them full creative freedom! You can give them options to choose from. Being included in the design process will help them feel more invested in their playroom and want to spend more time there.
Create zones
One of the best things you can do is create zones in a playroom. Zones help you efficiently use any size space. Zones can be based on activity type or age if your kids are of different ages. Some ideas include an area for active play, arts and crafts, games, and so forth.
Be sure to include a quiet, cozy space for reading or relaxing when your kids need some quiet time to recharge. This can be a comfortable chair, bean bag, tent, or even a few pillows in the corner.
Have a mix of storage options
Storage will be the MVP of the playroom. Having enough storage will keep the playroom from looking cluttered and from having your kids' toys and belongings won't be strewn all over the rest of the house. Incorporate a mix of open and closed storage. Open storage allows you to display toys and books within easy reach (and double as décor!) while closed storage is great for toys with lots of parts.
When it comes to storage, there's never too much!
Include comfortable seating
Make the playroom a cozy space by adding comfortable seating options like soft textured rugs, a cozy chair, pillows for lounging, bean bags, or a small couch, futon, or daybed that can also double as extra beds for overnight guests.
Make it transitional
Kids don't stay kids for long. It's important to keep an eye on the future as you design a space for play today. Create a room that can easily be adapted as your children age. While kid-sized tables and chairs look adorable, they may not be practical in a few years' time. Don't be afraid to choose a regular-sized table and opt for adjustable chairs so your kids can make use of it for longer.
Playrooms can be fun spaces to decorate. By focusing on these tips, you can create a playroom your kids will love playing in for many years.
Do you need extra space for a playroom? We can help. We have several new home communities throughout the Bay Area with homes available now. Visit us online at DiscoveryHomes.com to learn more about our communities, view floorplans, and more. We look forward to helping you find your new home.